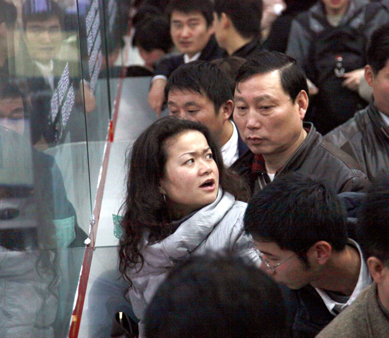 Crowds form at a real estate transaction office in Shanghai over the weekend amid rising property prices.[China Daily]
The rush to purchase property in the financial hub of the country, whipped into froth by the prophecy of short supply, has probably never been greater.
A flood of investment earlier this year, triggered by easy credit and expectations of progressive currency revaluation, has fueled a persistent surge in property costs.
With potential homebuyers fearing prices might soar to greater heights in the months to come, purchasing an apartment has become a craze of sorts.
Waiting in a serpentine queue at a property agent's office in central Shanghai, a man in his 30s said it would be foolish to "wait and see" any longer. "It's now or never," he said of his plan to purchase an apartment, which costs 27,000 yuan per sq m, up from 20,000 yuan six months ago. "I am kicking myself for not buying earlier," he added.
The city's property developers, who seem to be dictating supply, are exploiting homebuyers' fears of further surges in costs with what is being known as "widespread hoarding".
Xu Youran, a 25-year-old secretary at a multinational company, is certain property prices in Shanghai are about to increase further.
"I can't afford to buy any property in Shanghai right now," she said, adding that together with a friend, she was pulling together all their savings to make the down payment for a mortgage loan to buy a small apartment in the outskirts.
Of course, the developers are laughing all the way to the bank. All but two apartments in one of the blocks in the Pengli Sea View complex in Pudong district were sold out on the day sales opened.
"The two vacant units were penthouse duplex apartments costing more than 100 million yuan each," an agent told China Daily. "Both the penthouses were sold later that week."
An agent at Biyun Xintiandi, another complex under development in Pudong, urged potential buyers still trying to make up their minds to hurry up. "Don't expect anything will be left tomorrow," he told a young couple. "All units will be sold out by the end of the day."
Meanwhile, many property developers have held back sales of units in newly completed complexes, hoping to reap even bigger gains in future.
Related readings:


 Property market in Beijing facing a capital surge


 Realty curbs take sheen off mainland property stocks


 Property prices 'causing distress'


 Property market growth not bubble

"We are not in a hurry to sell," an executive of the Shanghai Ruilong Property Development Company told State broadcaster CCTV.
"We'll put the units in Time Europe Apartments (which completed construction in 2004) on sale when we're ready," he said.
Since 2004, the average price of property in the area has gone up from 9,000 yuan to 28,000 yuan per sq m.
From January to October this year, Shanghai's commercial residential construction fell by 8 percent, newly launched commercial residential housing dropped by 15.4 percent, while completed commercial residential buildings decreased by 16.5 percent. In contrast, sales of commercial housing during the same period soared 56.6 percent to 2.49 million sq m.
According to a recent E-House (China) Holdings Limited study, the supply of commercial housing in November amounted to 1.26 million sq m. However, the trading volume surged 11.3 percent to 1.67 million sq m, leaving behind a gap of 41 million sq m between supply and demand.
As a result, the average price of commercial housing touched a record high of 18,686 yuan per sq m in November, up 15 percent in comparison to October and up 32.7 percent year-on-year.
Chen Sheng, director at the China Index Academy, said Shanghai's housing supply can only meet the demand within two months. "It will further push up the price."
Chen also attributed the property craze to the expectations that the yuan is likely to strengthen against the US dollar next year.
"The Chinese currency is undervalued, which is why so many people are purchasing assets, such as housing, to maintain their property value," Chen said.
Premier Wen Jiabao said at Monday's executive meeting of the State Council, the country's Cabinet, that the price surge in some cities demanded greater attention.
To control the surging prices, officials proposed four steps, including raising the low-priced commercial housing supply and the public rental housing land supply.