MEMPHIS, Tenn: The Allen Iverson experiment with the Memphis Grizzlies is over.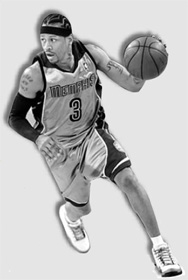 Memphis announced on Monday the team has ended its one-year contract with the 10-time All-Star and former league MVP in what it called a mutual agreement. Iverson began an indefinite leave of absense on Nov 7 to deal with a personal issue after playing only three games with the Grizzlies, all in California.
"Because of personal matters that forced him to leave the team on Nov 7, Allen will step away from the game at this time, allowing him to focus on those matters," general manager Chris Wallace said. "As a result, we will be ending our contractual agreement with Allen, which will allow both parties to move forward. We wish Allen the best."
The Grizzlies will waive Iverson but the team had not done that as of Monday night.
Iverson's agent, Leon Rose, did not immediately return a message left by the Associated Press on his cell phone. Iverson, who announced he was headed to Memphis on his Twitter account, hasn't posted any updates there since Nov 2, when he played his first game with the Grizzlies.
Related readings:


 Celtics hold Iverson in check, cruise to easy win


 Iverson's debut delayed but Pistons win

 Iverson goes to Pistons in blockbuster trade with Nuggets
Memphis owner Michael Heisley told AP last week he would be happy to trade Iverson to another team if a better deal came along.
Few NBA teams had shown interest in the 34-year-old guard before Memphis signed him to a one-year, incentive-laden contract on Sept 10. Memphis fans greeted the biggest star to play for the Grizzlies with a big crowd for his introductory news conference and eagerly bought up his No 3 jersey, though he wound up never playing a game on the team's home court.
Iverson didn't help himself much during his short stint with his fourth NBA team. He missed the preseason with a partially torn left hamstring and didn't debut with the Grizzlies until Nov 2 at Sacramento.
Immediately, Iverson began talking about his distaste for coming off the bench and being on a rebuilding team filled with youth from Rudy Gay and OJ Mayo to recent draft picks Hasheem Thabeet and DeMarre Carroll.
AP