DETROIT - The Boston Celtics held Allen Iverson to just 10 points in his first home game with the Detroit Pistons and cruised to an 88-76 victory on Sunday.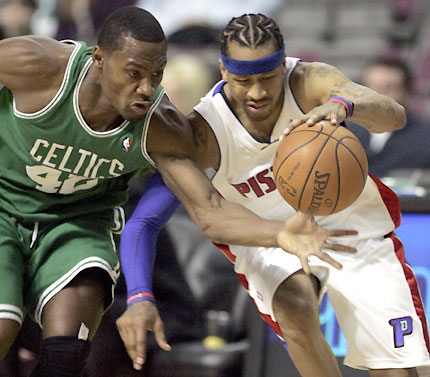 Boston Celtics center Kendrick Perkins (L) strips the ball from Detroit Pistons guard Allen Iverson during the second half of their NBA basketball game in Auburn Hills, Michigan November 9, 2008. [Agencies]
Reserve guard Tony Allen scored 23 points to spark the NBA champions in their first meeting this season with Eastern Conference contender Detroit.
Allen scored 12 points in the second period when Boston (6-1) out-scored Detroit 30-10 to take command of the game.
Iverson, who was traded to Detroit by Denver last week, made only four of 11 shots and finished well below his career scoring average of 27.7 points. Tayshaun Prince led the Pistons (4-2) with 23 points.