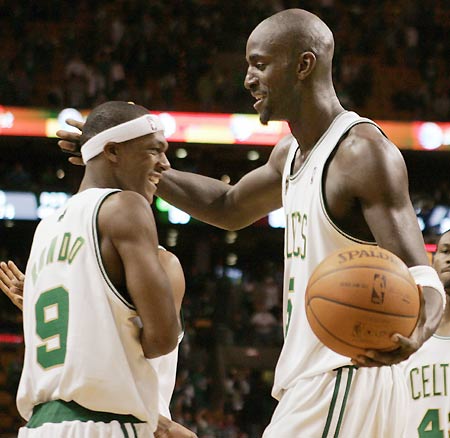 Boston Celtics guard Rajon Rondo (L) celebrates his team's win with teammate Kevin Garnett against the Cleveland Cavaliers in their NBA basketball game in Boston, Massachusetts October 28, 2008.  [Agencies]
BOSTON - The Boston Celtics opened the defence of their NBA title with a 90-85 win over the Cleveland Cavaliers on Tuesday.
The Celtics celebrated last season's 17th NBA title by raising the championship banner to the rafters and were then presented with their winner's rings in a pre-game ceremony.
Forward Paul Pierce, who has played his entire 10-season career with the team, was presented with the banner by several former Celtics' players.
He then helped his side overcome a seven-point deficit at halftime to lead all scorers with 27 points. LeBron James led the Cavaliers with 22 points.