BOSTON _ Paul Pierce, the NBA finals most valuable player, scored 27 points as the defending champion Boston Celtics followed an emotional ring ceremony with a 90-85 victory over the Cleveland Cavaliers on Tuesday night.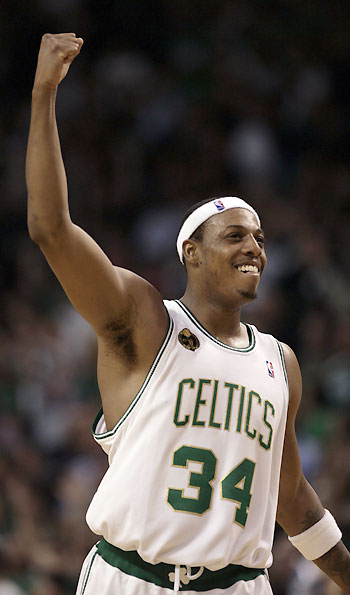 Boston Celtics forward Paul Pierce pumps his fist in fourth quarter action against the Cleveland Cavaliers during their NBA Basketball game in Boston, Massachusetts October 28, 2008.  [Agencies]
LeBron James scored 22, but he missed a driving layup with 41 seconds left and two free throws in the last 11 seconds.
In their first meaningful game since beating the Los Angeles Lakers at the new Boston Garden to clinch their record 17th NBA title, the Celtics began the festivities with a 20-minute ceremony to honor the 2007-08 team.
Ray Allen scored eight points, and Kevin Garnett had just 11 with six rebounds in an off night for the Big Three. Bulls 108, Bucks 95=
At Chicago, Luol Deng and Ben Gordon provided enough big shots to lead the Bulls to a victory over former coach Scott Skiles and Milwaukee. Deng scored 21 points and Gordon added 18 to offset Michael Redd's 30.
Derrick Rose, the No. 1 draft pick out of Memphis and a Chicago native, wowed fans with his quickness and strength but mixed in enough mistakes to remind them he is a work in progress. He finished with 11 points, nine assists and four turnovers.
Deng shot 8-for-13 after signing a six-year contract in the offseason, and Gordon scored 10 in the fourth quarter, making new coach Vinny Del Negro's debut a successful one. Lakers 96, Trail Blazers 76=
At Los Angeles, Kobe Bryant had 23 points, 11 rebounds and five assists to lead the Los Angeles Lakers to a 96-76 season-opening victory over the Portland Trail Blazers and spoiling Greg Oden's debut, which was cut short by another injury.
Bryant orchestrated a well-balanced offense for the Lakers, who also played tenacious defense.
Oden's highly anticipated NBA debut didn't last long; the 20-year-old center left the game late in the first half with an injured right foot after taking four shots and going scoreless. He had five rebounds, one turnover, blocked one shot and picked up two fouls while playing 12:51.
The injury was diagnosed as a sprain and X-rays were negative. Oden will undergo an MRI on Wednesday.