DETROIT - The Detroit Pistons acquired four-times NBA scoring champion Allen Iverson from the Denver Nuggets on Monday in a blockbuster deal that sent Chauncey Billups, Antonio McDyess and Cheikh Samb to Colorado.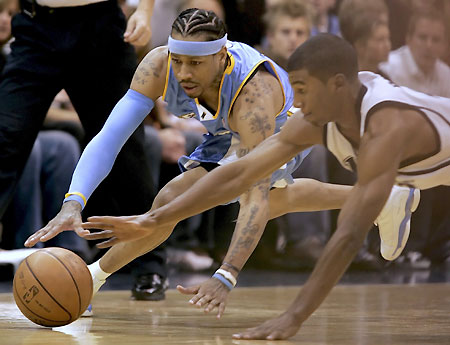 Denver Nugget's Allen Iverson (L) scrambles for a ball with Utah Jazz's Ronnie Price in the fourth quarter of their NBA game at the Energy Solutions Arena in Salt Lake City, Utah October 29, 2008. [Agencies]
After watching Detroit knocked out in the Eastern conference finals for a third consecutive year in May, president Joe Dumars had promised to shake things up.
He delivered on his word just two games into the new season swapping Billups, the most valuable player on the Pistons 2004 championship team, for Iverson, the 2001 league MVP.
"We are pleased to welcome Allen Iverson to the Pistons organisation," Dumars said on the NBA website. "Allen has proven he is one of the elite players in the league and we like what he adds to our roster at the guard position.
"We appreciate everything that Chauncey Billups, Antonio McDyess and Cheikh Samb brought to the organisation during their time here in Detroit and we certainly wish them all the best."
Taken with the number one pick by the Philadelphia 76ers in the 1996 NBA draft, Iverson has been one of the league's most consistent and dynamic scoring threats averaging 27.7 points per game in 13 seasons.
A nine-times all-star, 33-year-old Iverson averaged 18.7 points and 6.7 assists in the Nuggets' opening three games this season.
"He (Iverson) is a fierce competitor, he's going to bring tremendous energy to our basketball team and he's a proven all-star in this league," said Pistons vice-president Scott Perry. "He'll add excitement not only to our basketball team, but to the community at large."
The move to Denver will constitute a home-coming of sorts for Billups and McDyess, who both had stints with the Nuggets earlier in their careers.
Billups, who was born in Denver and played his college ball in Colorado, was a cornerstone of a Pistons team that made it to the Eastern conference finals for six consecutive years.
The stylish 32-year-old point guard has averaged 14.8 points and 5.5 assists in 12 NBA seasons, that has also included stops in Boston, Toronto and Minnesota.
McDyess will be embarking on his third stint in the Mile High City having played for the Nuggets from 1995-97 and again from 1998-2002.
He has averaged 13.4 points and 7.7 rebounds over his 13-year career.