Current men's singles world No 1 Wang Hao's relationship with former national teammate Peng Luyang was recently disclosed by local media and their romance has been accepted by team officials.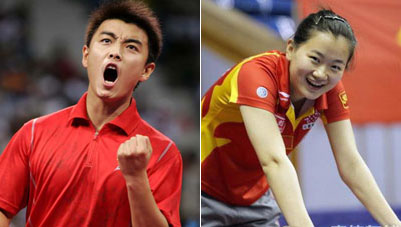 Wang Hao (L) and Peng Luyang 
The 26-year-old reigning world champ fell foul of the administration six years ago when he started going out with fellow national team player Fan Ying. However, this time, he has the blessing of team officials.
"The national team has some rules with relationships between young players and we suggest that they don't get involved in love affairs under 24 years of age or it's likely to affect their training," national team leader Huang Biao told Bandao Metropolis. "But they (Peng and Wang) should be able to deal with it and it could help in their training."
Peng's coach also supported them.
"Both of them are old enough and it's normal," said Qiao Yunping. "We are focusing on training for the National Games now and such affairs won't affect us."
Related readings:


 Wang Hao, Ma Long enter table tennis World Cup semis


 Wang Hao buries Athens ghost to lead China into final

 Men's team lifts trophy; Wang Hao best player


 Wang Hao ends Samsonov's run to make all-Chinese semis


Wang Hao downs Rye in opener
At the beginning of 2004, Wang's former girlfriend, Fan, together with Bai Yang and Li Nan from the women's team and Hou Yingchao from the men's contingent were dropped from the national squad for engaging in romantic liaisons with other players.
Bai and Li were involved with men's world No 1, Ma Lin, and Hou respectively.
Cai Zhenhua, the head coach of the team, said then that the forced splitting of three couples was "in the interests of the whole national team and the sport's development in China".
According to media reports, Wang started seeing Peng in 2006, after he moved to her home team, Shandong, on loan.