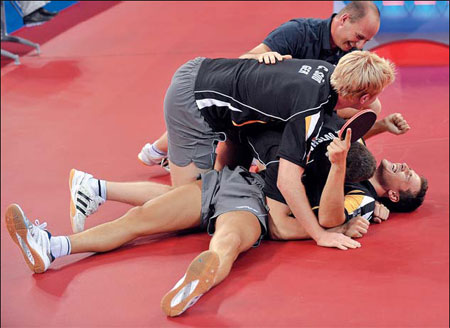 Germany's table tennis player Boll Timo (Bottom) celebrates with his teammates after defeating Japan's Kishikawa Seiya during the men's team table tennis semifinals yesterday. AFP
Star-studded China whitewashed South Korea 3-0 to storm into the table tennis team finals yesterday. It will now play Germany.
The mighty trio of Ma Lin, Wang Hao, Wang Liqin finished the best-of-five matches in less than two hours.
Four-time World Cup winner Ma Lin had the toughest match, the opener. He needed five games to get past 15th-ranked Oh Sang-eun 8-11, 11-7, 12-10, 11-13, 5-11.
World No 1 Wang Hao then displayed great skill to defeat reigning Olympic champion Ryu Seung-min 11-7, 6-11, 11-9, 11-6. In the Athens Games, Ryu Seung-min had beaten Wang Hao to clinch the singles gold.
Wang Liqin and Wang Hao then blasted Yoon Jae-young and Oh Sang-eun 11-4, 11-6, 11-5 to give China the deciding win.
Germany 3 Japan 2
Germany barely held off a determined Japanese to advance to the gold-medal match.
"We have nothing to lose. The Chinese have the pressure," Germany's Christian Suss said. "China has to win the gold medal in their own country here."
Led by Timo Boll, the sixth-ranked player in the world, the Germans were on the offensive for the majority of the contest, driving to the sides and corners of the table and making the Japanese chase the ball.
But the unflashy Japanese waited for the Germans to make mistakes and mixed in a few of their own searing shots to force a decisive fifth game in three of the matches.
The deciding match pitted Boll against No 63 Seiya Kishikawa, whose misfired returns were a big factor in the German victory. Boll had a shiny sheen of sweat on his forehead apparently more related to nerves than exertion.
Agencies
(China Daily 08/17/2008 page5)