BEIJING -- World number one Wang Hao dashed the last hope of none-Chinese players, ousting Vladimir Samsonov of Belarus here on Saturday to make the men's singles semifinals of the ITTF ProTour Finals all-Chinese encounters.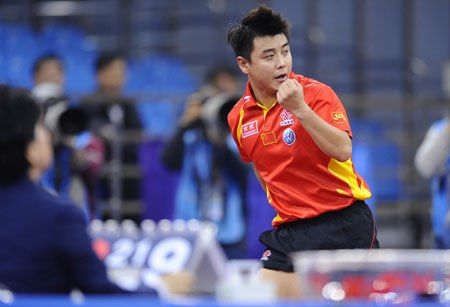 China's world number one Wang Hao celebrates a point against Vladimir Samsonov of Belarus during their quarter-finals at the ITTF ProTour Finals, one of the testing tournaments of the Beijing 2008 Olympic Games at the Beijing University Gymnasium December 15, 2007. Wang eliminated Samsonov to complete the all-Chinese semi-finals with teammate Wang Liqian, Ma Lin and Ma Long. [Xinhua]
"It's a really tough game for me. I had my chance at the beginning, but Wang played better. It's natural he win the match," said the 31-year-old Samsonov.
"Both of us have good performance," said Wang, who won an Olympic final rematch against Ryu Seung Min of South Korea to make the quarters. "Samsonov and Ryu are among the top players in the world and it's a good opportunity for me to face them here and beat them."
Samsonov, who has never claimed a world championship but won three European top honors and two World Cups, saw a possible turning point in the third set as he earned three set point on 10-7 and denied Wang's late comeback to win it 15-13.
The former leading one in Europe's "Good Time", however, has been ousted from the main group of world top class table tennis, succumbed to the world number one Chinese 11-9, 11-5, 13-15, 11-9, 11-7.
"I lost my distraction when leading 10-4 in the fourth set, but I tried to put myself together and turned back to the winning way, " said the 24-year-old Wang.
Earlier in the evening, Wang's national teammates Ma Lin and Ma Long beat Germany's Timo Boll and Singapore's Yang Zi for the semis, while Wang Liqin came out the winner of an all-Chinese quarterfinal against younger Chen Qi.