BOSTON - The Boston Celtics staged a pulsating fourth-quarter comeback to beat the Orlando Magic 92-88 Tuesday and snatch a 3-2 lead in their Eastern Conference semifinal.
Down by 14, Stephon Marbury came off the bench to spark the rally with 12 fourth-quarter points, as Boston erased the deficit with the help of a 13-0 run.
Related readings:


 Dallas keep NBA playoffs alive


 Yao Ming to miss rest of NBA playoffs


 NBA suspends Fisher, Alston while Bryant escapes ban


 Gordon, Bulls beat Celtics 121-118 in 2 OT


 Allen's late three-pointer lifts Celtics
Ray Allen delivered the hammer blow when he made a three-pointer with 1:20 to play to give the Celtics an 86-85 lead they would not surrender.
Glen Davis, who nailed a buzzer beater that gave the NBA champions a 95-94 win in Game Four, led Boston with 22 points while Paul Pierce flirted with the triple-double with 19 points, nine rebounds and eight assists.
"This is a game of wills and that's all it really was," Pierce told reporters. "Down 10 with four minutes to play, it's about...who wants it most.
"There's no denying that's what this team has from start to finish. We want to advance, we feel like we are the best team in the playoffs. We never give up."
The best-of-seven series now shifts to Orlando for Game Six on Thursday with the Magic reeling from two defeats and needing a victory to force a Game Seven in Boston on Sunday.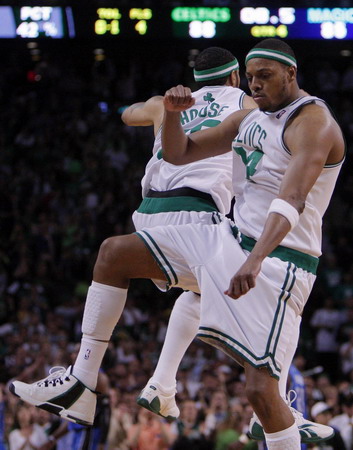 Boston Celtics Paul Pierce celebrates with teammate Eddie House during a time out near the end of Game 5 of their NBA Eastern Conference playoff series against the Orlando Magic in Boston, Massachusetts May 12, 2009. [Agencies]  
Orlando looked in control from the opening tipoff, with Dwight Howard dominating the boards and pulling down nine rebounds as the Magic forged a 22-16 first quarter lead.
The Magic led 45-37 at halftime and increased their lead to 11-points in the third before taking a 67-59 edge into the final quarter.
Marbury, however, led the charge off the Boston bench scoring all 12 of his points in the final quarter.
"I was ready (when) I got thrown into the game," said Marbury. "Coming off the bench you need a whole new mindset and I'm still adjusting to it.
"We just didn't allow ourselves to get down when we were down. We did what we had to do to win the game."
While Howard was a dominant presence on the glass, he was less effective offensively, contributing just 12 points while Rashard Lewis had 19 points and Hedo Turkoglu 18.