CHICAGO – Another playoff thriller between Chicago and Boston, and this one went to the Bulls.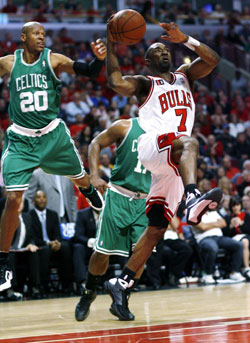 Chicago Bulls' Ben Gordon (7) shoots as the Boston Celtics' Ray Allen watches during the second half of Game 4 of their NBA basketball Eastern Conference playoff series in Chicago April 26, 2009. [Agencies]
Ben Gordon scored 22 points, hitting the tying 3-pointer in the first overtime, and the Bulls beat the Celtics 121-118 in double overtime Sunday to tie their first-round series at two games apiece.
The teams split two tight games in Boston, before the Celtics blew out the Bulls in Game 3. This time, they stretched the drama into a second overtime.
Derrick Rose added 23 points, 11 rebounds and nine assists. John Salmons scored 20 points after a slow start, hitting four free throws in the final 26 seconds of the game and blocking Paul Pierce's tying 3-pointer.
"Everybody I'm talking to is saying this is the most exciting series that they're watching right now," Gordon said.
It's tough to argue.
Boston's Ray Allen buried a 3-pointer with 9.8 seconds left in regulation to tie it at 96 before Rose missed a potential winning fadeaway in the closing seconds. Gordon came through with 4.5 seconds left in the first overtime, hitting a 3-pointer over Pierce to tie it at 110, and the Bulls never trailed in the second OT.
Salmons hit two free throws with 26.6 seconds left and, after a 3-pointer by Pierce, he hit two more at the line. After a timeout, Pierce got the ball on the left side but couldn't shake Salmons, who deflected his 3-pointer.
It was a dramatic end to another dramatic game. The series goes back to Boston on Tuesday, where the Bulls took Game 1 in overtime and the Celtics won Game 2 by three.
"It's 2-2 and we're in a fight," Boston's Rajon Rondo said. "Give them a lot of credit. They stuck with it. They fought back. They executed down the stretch very well and we didn't."
Pierce led Boston with 29 points, although he was just 9-for-24. Allen added 28, and Rajon Rondo again hounded the Bulls, finishing with 25 points, 11 rebounds and 11 assists - his second triple-double of the series.
Rose, who got outplayed by Rondo in the previous two games, again had trouble hanging onto the ball. He committed seven turnovers for the second straight time, but made up for it with some big shots down the stretch.
So did Gordon, who strained his left hamstring in the second quarter and is scheduled for an MRI on Monday.
Kirk Hinrich added 18 points off the bench while containing Pierce. Tyrus Thomas added 14 points and 10 rebounds, and Joakim Noah scored 12 while grabbing 10 boards. The Bulls prevailed despite missing some key free throws down the stretch and were 26 of 35 overall.