Millions of hoops fans, hordes of sports journalists and basketball officials were shocked and saddened when Houston Rockets' all-star Chinese center Yao Ming suffered another foot fracture that rules him out of the National Basketball Association playoffs.
"I can't believe it" and "It's a nightmare" were popular sentiments left on the nation's leading portal sohu.com, also the home of Yao's official website.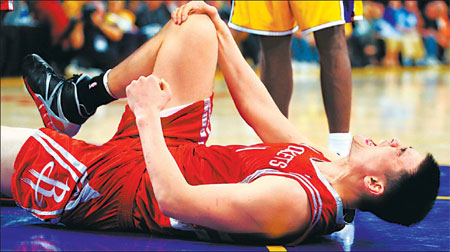 Houston Rockets center Yao Ming holds his knee after a collision with the Los Angeles Lakers' Kobe Bryant during the second half of Game 1 of their NBA playoff series in Los Angeles last week. [Agencies]
The disappointment follows feverish interest in Yao and the Rockets' ascent to the playoffs' second round - for the first time in 12 years - against semifinal rivals the Los Angeles Lakers.
Depressed Chinese fans now believe the season is virtually over for the Rockets without the pivotal center, who broke his left foot for the third time in four years.
The towering national icon was clearly in pain in the fourth quarter of Houston's 108-94 loss to the Lakers on Friday night before he hobbled off the court.
The Rockets said early on Saturday he appeared to have sprained an ankle, would receive treatment and be re-evaluated on Sunday (on Monday Beijing Time).
But further examination revealed a hairline fracture that will take eight to 12 weeks to heal.