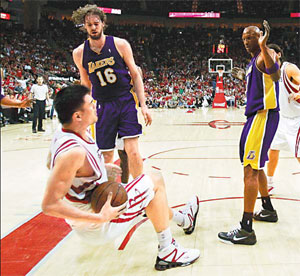 Yao falls to the court during the second half of Game 3 in Houston on Friday. [Agencies]
The Rockets host game four of the best-of-seven Western Conference semifinal series on Sunday with the Lakers leading 2-1.
"It's over. But it's still been a breakthrough by making it into the second round and an overall good season for the Rockets," one fan commented. "I hope with all my heart the Rockets find a good substitute for Yao next season. He's been over used all season long, especially after the retirement of (Dikembe) Mutombo."
Reserve center Mutombo ended his career after injuring his right knee in the first quarter of Rockets' first-round playoff loss against the Portland Trailblazers last month
National television CCTV basketball commentator Xu Jicheng is another who believes the Rockets now have no chance.