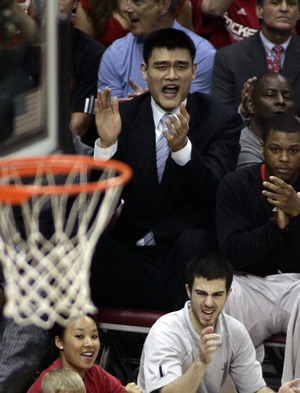 Injured Houston Rockets center Yao Ming cheers on his team as he watches them play against the Los Angeles Lakers during Game 4 of their NBA Western Conference semi-final basketball game in Houston, Texas, May 10, 2009. [Agencies]
"The big man's injury means the Rockets completely lose their advantage in the center. It means a series loss for the Rockets. The difference is how many games they can push the Lakers to play," said Xu. "For Yao, it's more important to take a good break and come back again next season."
Yao's absence is also a blow to sports journalists whose coverage of the Yao-fired Rockets has drawn phenomenal attention from Chinese sports fans.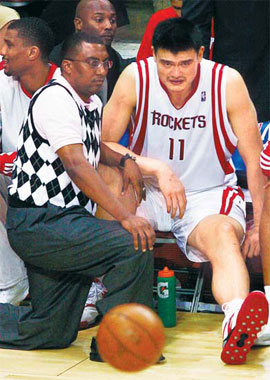 Yao, clearly in pain, sits on the bench in the fourth quarter as trainer Keith Jones attends to his leg on Friday. Yao will miss the rest of the postseason with a broken left foot. [Agencies]
"You have different network flows when the Rockets are with or without Yao," said Dai Jinsheng, a chief editor from sports.sohu.com.
It's the same for newspapers and other networks, where Yao and his team had been the No 1 interest since another sports idol, Liu Xiang, was injured at the Olympics.
Yao's injury is also a headache for CBA officials as he is unlikely to be available for September's Asian Championships on home soil in Tianjin.
"We're so concerned about his injury," said Hu Jiashi, deputy-director of Basketball Administrative Center. "We hope he'll be back soon. But according to the schedule, his recovery will be very close to the Asian Championships.
"We have to make sure he's 100 percent fit before making the decision (whether he will compete in Tianjin)."
Yao, who played 77 games this season, has battled leg and foot injuries the past three years.
He missed the 2006 playoffs after surgery on a broken bone in his left foot four games before the end of the regular season.
And in February of last year he suffered a stress fracture in his foot and again missed the playoffs, but recovered in time to represent China at the August Olympics in Beijing.