JAKARTA - Chinese women's team had a slim 3-2 win over the Netherlands to secure a place in semifinals in the Uber Cup women's badminton quarterfinal here Wednesday night at Bung Karno Sports Hall.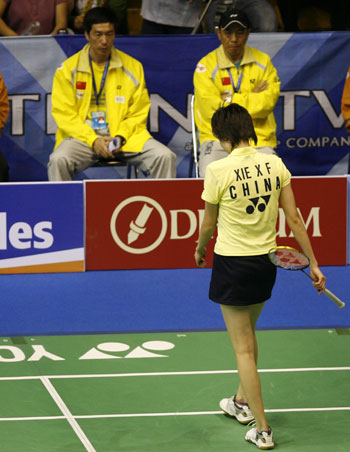 China's world number one Xie Xingfang reacts after losing to Yao Jie from the Netherlands during the quarter-final of the Uber Cup badminton championship in Jakarta May 14, 2008. [Xinhua] 
Yao Jie, representing the Netherlands, beat World No.1 Xie Xingfang 14-21, 21-12, 21-16 while China second singles player Lu Lan outclassed Judith Meulendijks 10-21, 21-18, 22-20.
Rachel Van Cutsen of the Netherlands swept past China's third singles Jiang Yanjiao 21-14, 11-21, 21-16.
However, while the singles players were struggling, China's top doubles team of Yang Wei/Zhang Jiewen and second doubles Wei Yili/Zhang Yawen were able to grab the key points for China.
Yang Wei/Zhang Jiewen beat Paulien Van Dooremalen/Judith Meulendijks 21-9, 21-9 while Wei Yili/Zhang Yawen edged past Rachel Van Cutsen/Karina De Wit 21-10, 21-7.
Wednesday's matches also saw Germany, Indonesia and South Korea through to the Uber Cup semifinals.