NEW YORK - Boston Celtics forward Kevin Garnett and Los Angeles Lakers guard Kobe Bryant were among the players named on the NBA All-Defensive team on Monday.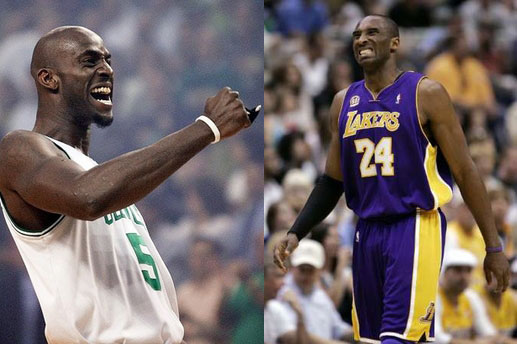 Kevin Garnett                           Kobe Bryant
Garnett was picked on the first team for the ninth consecutive year while Bryant, the league's most valuable player, was chosen for the eighth time.
Last season's Defensive Player of the Year Marcus Camby of the Denver Nuggets completed the selection along with the San Antonio Spurs pairing of Tim Duncan and Bruce Bowen.
Duncan earned his 11th consecutive selection, Bowen his eighth and Camby, who ranked first in blocks and second in rebounds this season, his second.
Bryant and Garnett were named on 24 first-team ballot and led the voting with 52 points each.
Garnett was named the Defensive Player of the Year last month in his first year with the Celtics after leading the team in rebounds and helping them hold opponents to a league-best .419 field goal shooting percentage.
The Houston Rockets' Shane Battier, Chris Paul of the New Orleans Hornets and the Orlando Magic's Dwight Howard were named on the All-Defensive second team alongside Tayshaun Prince of the Detroit Pistons and Raja Bell of the Phoenix Suns .
The voting was conducted by the NBA's 30 head coaches, who were not permitted to vote for players from their own team.