BEIJING - The host China's men's basketball team will face the United States Dream Team on the opener of the 2008 Beijing Olympic Games as the draw of men's and women's basketball competitions was held here on Saturday.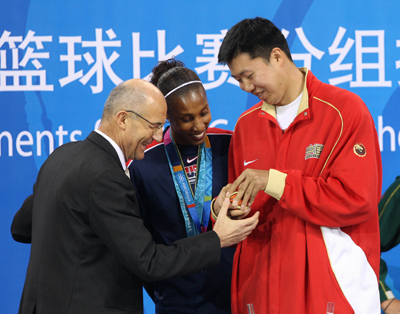 Chinese basketball player Wang Zhizhi (R) is seen at the draw ceremony for Beijing Olympic Games basketball competitions in Beijing, April 26, 2008. [Xinhua] 
China was bracketed in Group B with the US, world champion Spain, African champion Angola and two qualifiers from the Olympic qualifying competition on July 14th-20th at Athens, Greece.
In the other group, European champion Russia will face Olympic gold-medalist Argentina, Lithuania, Australia, Iran and a qualifier.
The women's draw took place earlier, with China, the US, New Zealand and Mali in Group B, and South Korea, Australia and Russia in Group A. Another five berths are to be decided on June 9th-15th in Madrid, Spain.
"It will be an eye-catching opener between the host and the USA," FIBA President Bob Elphinston said.
Li Yuanwei, vice president of the Chinese Basketball Association, said the men's team has a tough group while the women's draw is okey.
"It's a difficult group with opponents like Spain and the USA.. The women's group is okey," Li said.
Greece, Germany, Brazil and Canada have better shot at the men's qualifying tournament, with Slovenia, Croatia, New Zealand and Purto Rico not ready to give up.
Two of the three qualifiers will join Group B to make it tougher than Group A.
The Chinese women's team is aiming high as world champion Australia and runners-up Russia are bracketed into the other group.
China has little chance to beat three-time Olympic champion the US, but has better record against New Zealand and African teams.
The basketball competitions will set off from August 9-24 at the Beijing Olympic Games at the Wukesong Arena.