GRAND FORKS, North Dakota - The United States edged China 9-8 in 11 ends and lost to Denmark 7-6 in Monday's draws at the World Men's Curling Championship.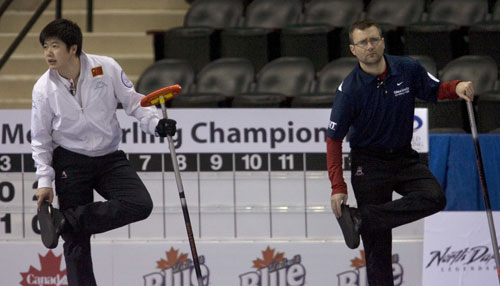 China's skip Wang Fengchun (L) and United States' skip Craig Brown put rubber covers over their shoes so as not to slip on the ice during their game at the World Men's Curling Championships in Grand Forks, North Dakota April 7, 2008. [Agencies]
The Americans moved to 3-2 in round-robin play after Denmark scored one in each of the last three ends to overtake the Craig Brown Rink of Madison, Wis. The United States team scored one in the 11th end to beat China earlier in the day.
Each team plays 11 round-robin games, with the championship game Sunday.
In other games in Monday's sixth draw, Germany downed the Czech Republic 9-7, Scotland defeated France 5-4 and Norway beat Switzerland 9-8.
Germany lost for the first time in the afternoon, falling 5-3 to Australia in the seventh draw. That left Canada, at 5-0, as the only undefeated team in the field. The Canadians beat defending world champion David Murdoch of Scotland 6-5 in the eighth draw after rolling over France 8-2. China beat Denmark 8-5 and Switzerland beat Sweden 5-4 for its first victory in the seventh draw.
In the evening's eighth draw, Norway needed 11 ends to beat Sweden 7-5 and Australia downed the Czech Republic 8-5.