BEIJING - Yao Ming's hopes of taking part in August's Beijing Olympics were given a boost when he underwent successful surgery on his injured left foot in the US late on Monday.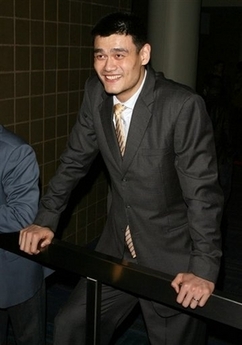 Basketball player Yao Ming is seen here attending an NBA event at Ernest N. Morial Convention Center, on February 16, 2008, in New Orleans Louisiana. Yao underwent successful foot surgery at a Texas hospital on Monday. [Agencies] 
The 7ft 6ins center, China's highest earning and most popular sportsman, faces up to four months recuperating after the operation at a hospital in Houston, according to a report on the Houston Rockets Web Site (www.nba.com/rockets).
"Yao is comfortable and recovering well after surgery," Rockets team doctor Tom Clanton said.
"We will continue to monitor his recovery and begin an aggressive rehabilitation once he is physically deemed ready."
Yao is key to China's hopes of a medal in the Olympic basketball tournament at the August 8-24 Games and a leading candidate to perform the prestigious role of lighting the Olympic cauldron at the opening ceremony.
"I am very relieved that everything went well with my surgery today," Yao was quoted as saying.
"I look forward to getting better and starting my physical rehab as soon as the doctors say I can. I would like to thank everyone for their kind wishes during this time and I look forward to the day that I can rejoin my Rockets teammates on the bench."
The diagnosis of a stress fracture to his left foot last week brought an end to the 27-year-old's NBA season, during which he had has averaged 22 points and 10.8 rebounds for the Rockets.
There was a more minor injury worry for another member of the "Great Wall of China", forward Yi Jianlian, whose Milwaukee Bucks team said he had a sprained ankle.