LONDON - Chelsea midfielder Frank Lampard escaped Tuesday a three-game ban after the Football Association (FA) overturned the red card the England international received when he was sent-off in the 4-0 win away to West Ham last weekend.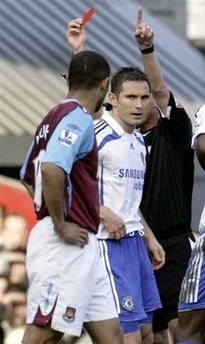 Chelsea's Frank Lampard (C) is sent off with a red card during a Premier League match against West Ham at Upton Park in London, March 1. Lampard has escaped a three-game ban after the Football Association (FA) overturned the red card. [Agencies] 
Lampard, who'd opened the scoring against his old club at Upton Park, was sent-off following a clash with Luis Boa Morte.
But referee Peter Walton told an FA regulatory commission he and his assistant made a mistake.
The commission then had to decide if the officials had made a "serious and obvious" error in dismissing the 29-year-old.
They also had to take into account the UEFA guideline that while endangering an opponent warrants a red card, contact on or above the neck is deemed to be violent conduct
Lampard's reprieve allows him to play against Barnsley in the FA Cup and the Premier League matches against Derby and Sunderland.
By appealing, Chelsea risked Lampard's ban being extended to four games had the verdict gone against the Stamford Bridge club.
That is what happened to Middlesbrough's Jeremie Aliadiere last week when a disciplinary panel rejected what they said was a "frivolous" appeal against a red card.
However correct Tuesday's ruling may be under the rules, it is bound to fuel the suspicion expressed by Middlesbrough chief executive Keith Lamb that there is one rule for 'big' clubs such as Chelsea and another for the rest.
Victory over West Ham left Chelsea third in the Premier League table, seven points behind leaders and London rivals Arsenal.
Chelsea's next match sees them up against Olympiakos in the Champions League at Stamford Bridge on Wednesday.
The second leg of this last 16 clash is still all square after a goalless draw in Greece a fortnight ago and Lampard, speaking before the appeal verdict was announced, told the London Evening Standard: "They will be a danger.
"They play a strong and compact game and are dangerous on the counter-attack."
Lampard added he was happy Chelsea, beaten in the League Cup final by London rivals Tottenham, had had their chances of silverware this season written off by some pundits.
"Everyone has been waiting for Chelsea to take a fall," he said. "It comes with the territory of being so successful over the last three or four years.
"What's very important is that we unite as a club on the inside - players, staff and fans as well. We must remember what we have achieved and what we can achieve. Together we have a great chance of doing it this season.
"I have seen a lot of people leaving us out of the running and I like that in a way. If we win our game in hand we are four points behind Arsenal and three behind Manchester United.
"We have to play them both at home, while they also have to play Liverpool. It comes down to us. If we go on a fantastic run and win the majority of our games we can win the league, that's a fact."