BEIJING - China women's volleyball team look to have recovered their form just in time for their Olympic title defence after beating Cuba six times in a row in friendlies over the last two weeks.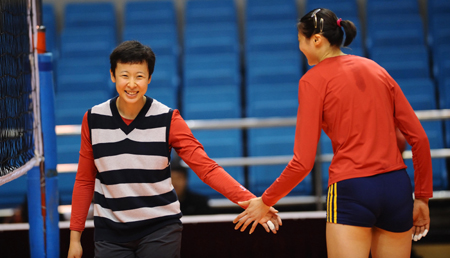 Feng Kun(L) and Zhao Ruirui [File photo] 
After winning gold in Athens, China suffered injuries to key players Zhao Ruirui and Feng Kun and a loss of form.
They finished fifth place at the 2006 world championships and missed out on the Asian title last year for first time in more than two decades.
But with top scorer Zhao and setter Feng back to full fitness, they enjoyed 5-0 4-1 3-2 5-0 3-2 and 3-2 victories over world number three Cuba in the series of games played in six cities on China's southeast coast between February 24 and March 2.
"The Chinese women's team have received good practice through this series of games, especially the young players," head coach Chen Zhonghe told the Web site of China Volleyball Association (volleyball.org.cn).
"And the veterans who are away from competition for years like Zhao and Feng have built up their confidence. But the team must improve at least on teamwork, exquisite skills and cooperation," he added.
Chen said the 12-player squad for the Olympic Games, where women's volleyball is likely to be one of the most popular events among locals, would likely be unchanged from the Cuba matches.