DONGGUAN - Guangdong Hongyuan showed its determination for the championship as it beat Liaoning Hunters 111-92 to take Game 1 of the final in the Chinese Basketball Association league (CBA) here on Wednesday.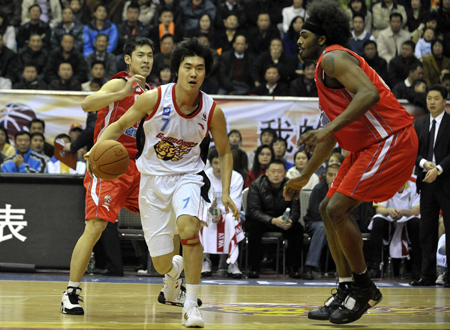 Guangdong Hongyuan' Wang Shipeng dribbles the ball during the Game 1 of CBA finals against Liaoning Hunters on February 13, 2008 in Dongguan. Guangdong won 111-92. [Xinhua] 
Zhu Fangyu scored 22 out of 33 point in the first half to help the home team build up a comfortable lead to kick off the best-of-seven series.
Guangdong, which is seeking for the fourth trophy in five seasons, led as many as 86-62 to enter the fourth quarter.
Starting the game with 11 consecutive field-goal misses, Liaoning paid off the inexperience as trailed 26-10 in the first quarter.
This was the first time in the last nine years that Liaoning entered the final after it dominated the domestic championships with arch-rival Bayi prior to the professional CBA.
"This was not our typical game.  Our players were nervous and got into the game late," said Liaoning head coach Guo Shiqiang, who was the point guard when Liaoning played Bayi Rockets in the 1998-99 season final.
Guard Zhang Qingpeng scored 16 out of his 18 points in the second quarter to put Liaoning back into the game, while Zhu scored 11 points during this period to give the answer on 59-41.
Liaoning used a 15-4 run to close it on 65-56 in the third quarter, but failed to hold on and let the game loose.
Olumide Oyedeji led Liaoning by 25 points while Jamar Sampson grabbed 14 rebounds.