SEOUL - Zhang Dan and Zhang Hao of China led the pairs short program on the first day of the Four Continents figure skating event at Goyang, South Korea on Wednesday.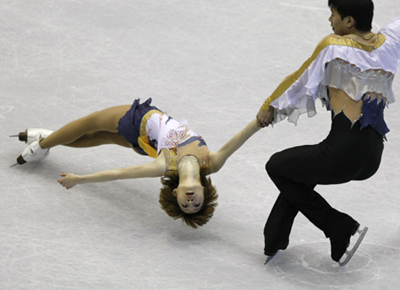 China's Zhang Dan (L) and Zhang Hao perform during their pairs short program at the ISU Four Continents Figure Skating Championships in Goyang, northwest of Seoul, February 13, 2008. [Agencies] 
Their compatriots Pang Qing and Tong Jian placed second in the annual event, a gear-up for the 2008 World Championships in Sweden in March.
Zhang Dan and Zhang Hao, the 2005 Four Continent winners, danced to Piano Fantasy for a score of 70.45 points, while Pang and Tong recorded their season best of 67.70.
"I was wearing new skates and felt a little uncomfortable," said Zhang Hao, "Tomorrow is a big challenge for us but we will aim to finish in first position."
The 2006 winners Rena Inoue and John Baldwin of the United States placed third with a score of 57.40.
Earlier in the day, Canadian couple Tessa Virtue and Scott Muir led the compulsory dance segment of the ice dancing competition, scoring 38.25.
Meryl Davis and Charlie White are in second with 37.36 while fellow Americans Kimberley Navarro and Brent Bommentre are in third place having skated 34.36.
The men's short program was to start later Wednesday, with the ladies' event on Thursday.