NEW YORK - Dirk Nowitzki scored a season-high 36 points to steer the Dallas Mavericks to a 99-89 win over the New York Knicks on Monday.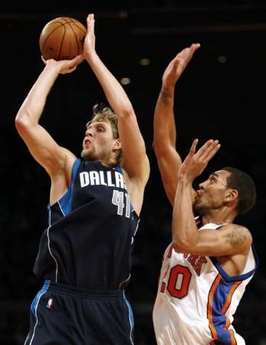 Dallas Mavericks' Dirk Nowitzki (L) shoots for two of his 36 points past New York Knicks' Jamal Crawford in the second half of their NBA basketball game in New York, December 10, 2007. [Agencies] 
Nowitzki hit 14 of 23 field goal attempts, including three of five three-pointers, and was five of seven from the line as the Mavericks continued their domination of the Knicks.
Nowitzki had 15 points in the first quarter to propel the Mavericks to a 28-19 lead.
Josh Howard added 22 and Jerry Stackhouse had 13 for Dallas.
Zach Randolph scored all 24 of his points in the second half to pace New York. He also had 11 rebounds.
Jamal Crawford added 19 and Fred Jones 16 for the Knicks, who lost their third successive game.
* The Atlanta Hawks surprised the Orlando Magic 98-87 in Orlando. Josh Smith had 25 points, 16 rebounds and four blocked shots and Joe Johnson added 24 points for the Hawks. Hedo Turkoglu scored 22 for Orlando, who made only 39.7 per cent of its shots from the floor.
* Andre Miller had 17 points and 12 assists when the Philadelphia 76ers beat the Houston Rockets 100-86 for their third win in a row. Willie Green added 20 and Andre Iguodala 16 for the 76ers. Bonzi Wells topped Houston with 24 points and 10 rebounds.