Richmond, Virginia - Michael Vick awaited a judge's ruling Monday on how long he will remain in prison for his role in a dogfighting conspiracy.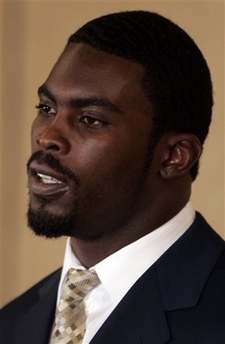 Michael Vick makes a statement after pleading guilty to a federal dogfighting charge in Richmond, Va., in this Aug. 27, 2007 file photo. Vick awaits a judge's ruling Monday, Dec. 10, 2007, on how long he will remain in prison for his role in a dogfighting conspiracy. [Agencies]
The suspended Atlanta Falcons quarterback faced up to five years at his sentencing by US District Judge Henry E. Hudson. Federal sentencing guidelines suggested a year to 18 months.
Vick pleaded guilty in August. In a plea agreement, he admitted bankrolling the "Bad Newz Kennels" dogfighting operation on his 15-acre property in rural southeastern Virginia and helping kill six to eight pit bulls that did not perform well in test fights.
He also admitted providing money for bets on the fights but said he never shared in any winnings.
At a news conference after pleading guilty, Vick apologized to the NFL, the Falcons and youngsters who viewed him as a role model and vowed: "I will redeem myself."
After testing positive for marijuana - a violation of conditions set for his release - Vick was placed on a curfew and monitored electronically. He voluntarily began serving his sentence early and has been held since Nov. 19 at a jail in Warsaw, Va.
Court papers revealed gruesome details about Vick's dogfighting operation, including the execution of underperforming dogs by electrocution, drowning, hanging and other means. Those details prompted a public backlash against the once-popular NFL star and outraged animal-rights groups, which used the case to call attention to the brutality of dogfighting.
Vick was suspended without pay by the NFL and lost all his lucrative endorsement deals.
Two of Vick's co-defendants were sentenced Nov. 30. Purnell Peace of Virginia Beach got 18 months, Quanis Phillips of Atlanta 21 months. Another co-defendant, Tony Taylor, will be sentenced Friday.
The case began in April when a drug investigation of Vick's cousin led authorities to the former Virginia Tech star's Surry County property, where they found dozens of pit bulls - some of them injured - and equipment associated with dogfighting.
Vick initially denied any knowledge about dogfighting on the property. He changed his story after the three co-defendants pleaded guilty and agreed to cooperate with the government.