MADRID -- Russia stunned hosts and world champions Spain 60-59 in the European championship final to win the gold medal in Madrid on Sunday.
Jon Robert Holden sank the winning two-pointer with two seconds remaining, leaving the hot favourite Spain with the silver.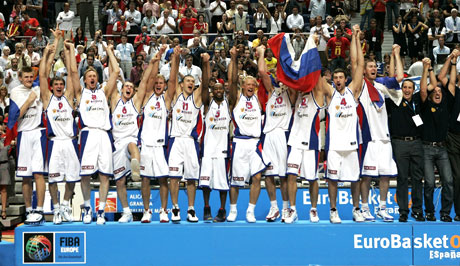 Russia's National Basketball team celebrate on the podium after winning their final game against Spain at European Basketball Championship in Madrid September 16, 2007.  [Reuters]
Thus, Russia earned the automatic qualification to the 2008 Olympic Games in Beijing. Spain have already qualified.
Russia last won the gold in 1985 as the USSR, making it their 15th gold medal in the Euros. It was Spain's sixth failure in the final and they have never won gold.
Russia's Utah Jazz forward Andrei Kirilenko scored a game-high 17 points and was voted the tournament's MVP. He was supported by Victor Khryapa with 12 rebounds and seven points.
"Our plan was to stay in the game and make them feel the heat, the pressure of 15,000 fans, and to see how they play. Fortunately, we did that and we won," said Russian coach David Blatt.
In front of the passionate home support, Spain tore into Russia at the start and opened up a 12-point lead early in the second quarter.
But Blatt's side tightened up in defence, and slowly reeled them back to trail 34-31 at halftime.
Russia's Zakhar Pashutin sank a three-pointer to level for the first time at 49-49 at the start of the fourth and it was neck and neck until the closing seconds when Holden gave Russia the one point advantage.
Spain had two seconds to respond but Pau Gasol's last shot bounced on the rim and out as the buzzer went.
Jose Manuel Calderon led Spain with 15 points and Gasol added 14, the only two to make double figures.
"I am going to think about all our errors, but I am not going to wash our dirty linen in public now. We deserved to win and nothing else is a compensation," said Spain coach Pepu Hernandez.
"This is the best basketball team in Spain's history and still has an extraordinary future in front of it."
Lithuania took bronze after beating 2005 winners Greece 78-69 in the third-place playoff match. The victory also earned Lithuania automatic qualification to the Beijing Olympics.
Ksistof Lavrinovic top scored for the 2003 gold medallists with 19 points, supported by Ramunas Siskauskas and Linas Kleiza with 13 each.
Greek guard Nikolaos Zisis notched a game-high 23 points for the former champions, who trailed from midway through the second quarter.
Earlier, Germany beat Croatia 80-71 to finish fifth and Slovenia overcame France 88-74 to end up seventh.
Greece, Germany, Croatia and Slovenia enter the pre-Olympic qualifying tournament next July.