NBA All-star Yao Ming has rushed to the defense of beleaguered national coach Jonas Kazlauskas by declaring the Lithuanian worthy of leading the team to the Beijing Olympics.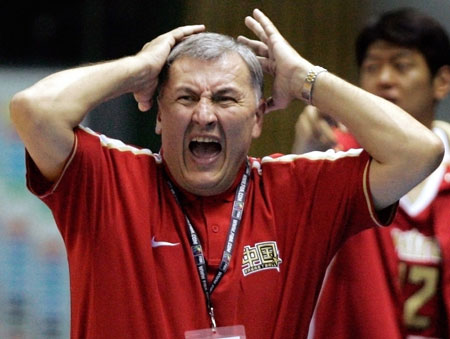 China's coach Jonas Kazlauskas shouts at the team during their win against Senegal during the first round of the world basketball championships in Sapporo August 23, 2006. [Reuters] 
The towering centre has turned the tables on media who have attacked the mentor, accusing them of fickle reportage and showing too little faith.
"He is a good coach," said the Houston Rockets star after leading the team to the first of two comfortable wins against the visiting Melbourne Tigers on Monday night.
"I have heard a lot of people speaking against him, but I am sure he is a great man, he unites the team, of course he should stay and lead us at the Beijing Olympics."
"Some media are like grass atop a wall swaying in the wind, when you won some games, they cheered for you, but when you lost, they went to the other side."
The renowned Lithuanian head coach has been panned for reportedly running out of ideas and placing all his chips on the return of Yao for next year's Olympics.
The national team ended its European tour with five-consecutive losses earlier last week, setting off a barrage of broadsides from Chinese newspapers after yet another disappointing summer for hoops fans.
"How many summers can we waste?" pleaded a harsh headline in China's leading sports newspaper Titan Sports.
"Kazlauskas' prestige in the team has hit a new low."
"He has lost control of the team and his desire for victory diminished this summer."
China extended its losing streak to European teams to 18 after the Athens Olympics on the latest tour.
Without Yao, who took the summer off to recover from injury and to enjoy his wedding and honeymoon, the team won just four from 17 games in three major campaigns - NBA Summer League, the Stankovic Cup and the European Tour.
"He is taking a gamble," said an editorial in the Beijing Evening News.
"Jonas has raised all his hopes on Yao Ming, this is absolutely dangerous."
"What if Yao was injured at the Beijing Olympics or he had too many early fouls?"
Even with two NBA prospects Yi Jianlian and Sun Yue plus former Dallas Maverick Wang Zhizhi, China only managed to score an average of 69 points to lose by a mean of 23 in the five-game European trip. The most embarrassing setback came on August 22 when China, ranked 11th on the International Basketball Federation (FIBA) Teams Standings, suffered a heavy defeat to world No 55 Poland.