NBA All-star center Yao Ming inspired China's basketball team to a comfortable 69-56 win against visiting Melbourne Tigers on Monday night.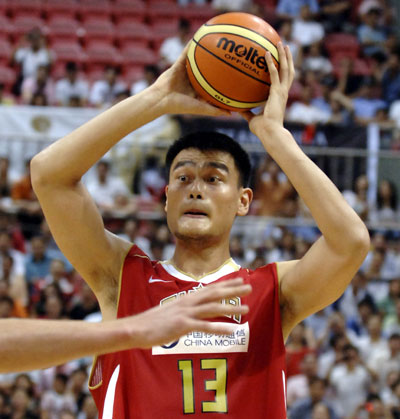 Yao Ming of China tries to pass the ball during a friendly between China and Melbourne Tigers on Monday in Shenzhen of South China's Guangdong Province. [Xinhua] 
The NBA all-star giant, who struggled with a shoulder injury following the NBA season, hit 12 points in about 20 minutes of court time in Shenzen during his first game for China this year.
The Houston Rockets center helped China end the five-match losing streak that marred last month's European tour.
Newly signed Milwaukee Bucks power forward Yi Jianlian topped the scoring with 20 points and successfully covered the pivotal role while Yao was benched.
Wang Shipeng contributed eight points while shooter Zhu Fangyu and guard Liu Wei added seven apiece.
China's Lithuanian coach Jonas Kazlauskas was also absent because he was visiting the FIBA Europe Cup.
China started slowly to trail the Aussie team in the first quarter.
The Tigers opened the score with two three pointers before Yao responded with a jump shot and slam dunk to make it 4-6.
But with little game time in the tank, Yao was replaced after just four minutes.
He was benched until the final minute of the first quarter, but helped China's resurgence in the second to regain the lead from four points down.
Yao helped a determined China team find its range in the second, making a 11-0 spurt and turning the tables to lead 23-16.
Yao's former Shanghai club teammate Liu Wei led the surge with two three pointers.
Yi Jianlian also found his range during the run with strong turnaround jumps and dunks.
The Tigers managed to cut the deficit to 25-21 but Yao helped retain the lead with his first shot in the second quarter.
China's biggest lead in the first half was 30-21 after double-team defense on Yao provided opportunities for his teammates.
The Tigers fought back to move within six points at the end of the first half but could not further reduce the deficit for the remainder of the game.
Yao rested for most of the second half on the bench but China still had its way to extend the lead to 53-34 after the third quarter.
Sharp shooter Zhu Fangyu and teenage guard Sun Yue were on song and veteran Li Nan also added contributions.
The game degenerated in the fourth quarter where Yi dominated the center, scoring his total points.
The Tigers showed some flashes of good shooting and passing but their efforts against larger and more fancied opponents were mostly in vain.
China played without former NBA center Wang Zhizhi, who was sidelined with a cold.