NBA all-star Paul Pierce has urged young basketballers to go outdoors and hone their skills in freestyle matches on the street.
The former Boston Celtics star, who finished as the NBA's top scorer after leading Boston to the NBA Eastern Conference Finals in 2002, believes childhood street matches were the source of his inspiration.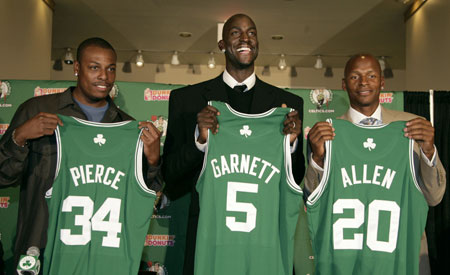 Boston Celtics' new signing Kevin Garnett (5), previously from the Minnesota Timberwolves, poses with his new teammates captain Paul Pierce (34) and Ray Allen (20) at a news conference to announce Garnett's signing in Boston, Massachusetts July 31, 2007. [Reuters] 
"It's all about creativity, it's all about imagination," Pierce said while watching the all-star game of a nationwide street basketball training camp organized by Nike last weekend.
"When I am playing outdoors, there are always some inspirations coming out. If you use them skillfully, they will improve your basketball."
China is renowned for systematically training its athlete - many are trained professionally since early childhood and usually have little experience in the less rigid arena of street games.
"The fundamentals are very important," Pierce said.
"You have to practice them a lot so you can use them in the games.
"That's what I worked on while playing on the street when I was young."
Influenced by the NBA, Chinese youth players are beginning to play outdoors rather than attending sports schools as an avenue to a professional career.
National team guard Chen Jianghua is the best local product of street basketball - he was discovered after winning the Nike China Streetball Championships before gaining selection for the national team in 2006 as a 17-year-old with no international experience.
Chen's Guangdong Tigers teammate and NBA prospect Yi Jianlian also cut his teeth on the street before being picked for the Guangdong team.
"They just reminded me of my old time when I was playing on the street with my friends," Pierce said.
"You can use your imagination and make the game beautiful."
Pierce was invited to be special guest at the Nike Power Factory 2 Streetball Training Camp.
The month-long camp attracted more than 20,000 under-22 basketball talents from around China.
But just 30 players from Beijing, Shanghai, Chengdu, Wuhan, Shenyang and Guangzhou made it to the all-star game held in Beijing.