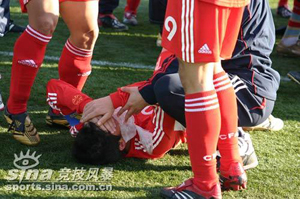 Zheng Tao of Chinese Olympic team felt into coma and received the first aid soon after the brawl between Chinese Olympic team footballers and their rival England Queen's Park Ranger on Feb.7th,2007.The warm-up match was forced to be halted.[sina.com]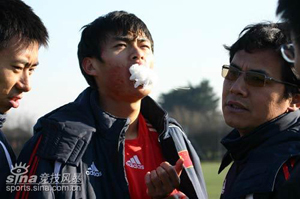 Chinese Olympic team player Zheng Tao was blocked by gauze for hemostasisin after the fighting between the Chinese side and the England team Queen's Park Ranger on Feb.7th, 2007, according to sina.com sports.The match was forced to be suspended.[sina.com]


Latest News: England FA to probe China brawl
An unexpected brawl broke out yesterday between the Chinese Olympic football team and England's Queens Park Rangers just ten minutes before the end of the match at the Rangers training ground in west London, sina.com reports.  
The referee was forced to halt the match, the second in China's warm up series in England. The Rangers were ahead 2-1.England local police started to investigate into the conflict.
Related readings: 


England FA to probe China brawl


Zheng Tao suffers comminuted fracture in QPR's brawl


Olympic team involved in brawls in England


China Olympic soccer team to kick off England tour


Olympic soccer teams descend on HK

Thousands mourn policeman killed in Italy soccer riot


Italy reeling from soccer riot
Defender Zheng Tao was knocked unconscious for a full five minutes and taken to hospital after the fight, and another Chinese player was injured.
Queens Park Rangers took an easy lead in the first half after the Chinese keeper failed to intercept a long pass, giving the Rangers with a rare chance to chip a drive into the open net.
China rallied to level the score in the second half with a long shot from Gao Lin, but conceded a second goal to the Queens Park Rangers just minutes later.
Then a fight broke out between Gao Lin and one of his rivals after they collided with each other in the 75th minute, transforming the field into a boxing ring. Even the substitutes on the sidelines joined in the fray.

Chinese Olympic team head coach Ratomir Dujkovic expressed dissatisfaction, saying his players need to focus on the game and stay calm whenever unexpected incidents occur on the field,while other coach group members refused to air their view.

The Queens Park Rangers coach had no comment. The Chinese team started touring Europe last month as part of training designed to secure them a place among one of the top four teams at the Beijing Olympic Games in 2008.

But all their games in England have been marred by brawls. A similar scene occurred when they lost 1-0 to Premiership powerhouse Chelsea on Monday.

China has stepped up its preparation for the Olympics under the helm of Serbian coach Dujkovic, who has announced he wants his team to win a medal at the Beijing Olympics. Dujkovic unexpectedly led Ghana to the World Cup in Germany in 2006.
China will play their last match on their tour against English Championship side Brentford on Tuesday.