Rome - A World Cup victory few expected. A corruption scandal that disgraced some of Italy's most famous clubs. And now, the death of a policeman during riots by Sicilian soccer fans.

The past year has been a tumultuous ride for Italian soccer, gripping a nation where team allegiances are a reflection of ancient loyalties that pit town against town. Passions have defied long attempts by the government and police to bring violence under control.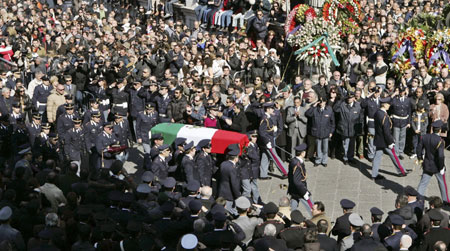 Police officers carry the coffin of their slain comrade Filippo Raciti into the cathedral for his funeral in Catania February 5, 2007. A soccer-mad nation which only seven months ago celebrated a World Cup victory was stunned by the outcome of riots at a derby between rival Sicilian teams Catania and Palermo on Friday, in which the policeman died and over 70 people were injured. [Reuters]
Policeman Filippo Raciti's death during clashes at the Catania-Palermo Serie A game Friday evening, which prompted the cancellation of the rest of the weekend's matches, has shocked a nation where soccer is more than just a sport - it is part of the fabric of life, to many nothing short of religion.
"Let's not hide the fact that it is not only a game," said La Repubblica in a recent front-page editorial. "This game nurtured dreams. Now it provokes nightmares."
Italy has three national sports dailies that are almost entirely devoted to soccer. Most other sports typically receive little, if any, TV coverage. Day in and day out, countless radio and TV shows from national broadcasters to small local stations - discuss in great detail team news, refereeing decisions, soccer policy.
England was long notorious as the home of the soccer hooligan, but CCTV cameras, tougher policing and higher ticket prices have tamed stadium violence. Now Italy, France and the Netherlands are becoming known as the European countries where the worst soccer violence takes place.
Thanks to Italy's World Cup final victory over France last July in Germany, Italian soccer managed to recover from a match-fixing scandal that had greatly undermined its credibility. But Friday's violence promises to be a harder crisis to overcome.
Premier Romano Prodi vows radical changes. A soccer official even suggested bringing the league to a halt for a whole year. But some say it's the very mentality of Italians that needs change.
"Here the culture of defeat does not exist. Every time one loses it becomes a tragedy," lamented Cesare Prandelli, the coach of Serie A side Fiorentina.
Being a soccer fan in Italy is for many a way of expressing allegiance to one's home town. And in a land that was once a collection of city states engaged in constant fighting, emotions can run high.
Often, the closer the cities, the more bitter the rivalries. Historically, Naples and Avellino in the south or Siena and Florence in the north are bitter rivals -- and that sometimes spills into the soccer stands.
Animosities can also play along Italy's traditional divide between its wealthy north and its underdeveloped south.
"Welcome to Italy," said a banner exposed in the Verona stadium during a match with Napoli during the 1985-86 season. Taking aim at one of Verona's dearest symbols -- the story of Romeo and Juliet -- Naples fans held up the banner: "Juliet, You Are A Tramp."
Cross-town rivalries can be the most violent ones. In 1979, Lazio fan Vincenzo Paparelli died when a rocket fired by AS Roma supporters during a derby hit him in the eye.
In 1995, 25-year-old Genoa fan Vincenzo Spagnolo was stabbed to death before a match between his team and AC Milan.
Adding to the rivalries, fans are often politically aligned - bringing together two passions in an incendiary mix.
Livorno fans, for example, are known for being leftists, while Lazio ones are traditionally right-wing. When the two Serie A clubs met in 2005, Lazio fans chanted fascist slogans and Livorno fans waved red flags with the communist symbol.
"Whether it's Che Guevara, the Communist symbol, whether it's the Celtic cross, I don't think those people necessarily walk around with those ideas off the pitch," said Gabriele Marcotti, a London-based author of books on soccer, including the recent one The Italian Job co-written with former star Gianluca Vialli.
"Those are just symbols that people adopt ... But it is a way to create a siege mentality, to create an us-vs-them mentality."
Marcotti said he thought the real reasons for violence in soccer stadiums, whether in Italy or the rest of Europe, are social, rather than political.
"It is a fact - I think an indisputable fact - that in Western European countries a certain proportion of young men between the age of 15 and 30 really enjoy fighting," said Marcotti. "Whether they are fighting in pubs, in political demonstrations, that doesn't matter, they enjoy the physical confrontation. They especially enjoy the fight with police."