useful numbers
name
number
inquiry
96990
pudong airport
luggage storage
t1:68346324
t2:68340076
lost&found
t1:68346324
t2:68340417
hongqiao airport
luggage storage
t1:22344553
t2:22381085
lost&found
t1:22344553
t2:22381086
Shanghai metro launches Disney station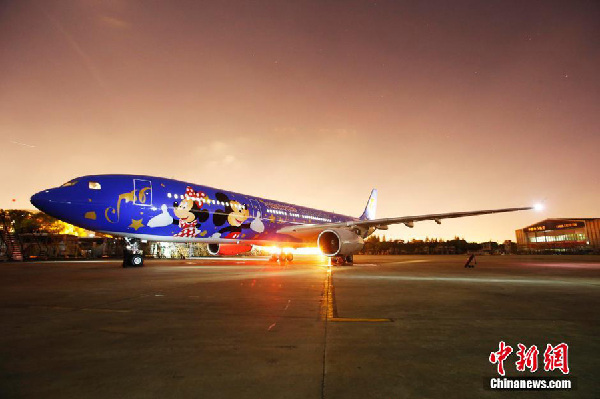 A Shanghai Disney-themed airplane has made its debut in Shanghai on April 25, 2016. The plane, operated by China Eastern Airlines, is painted blue across the body with two giant Mickey and Minnie Mouse figures. More Disney-themed planes will meet visitors in the near future. The Shanghai Disneyland opens on June 16. [Photo/Chinanews.com]
SHANGHAI -- A new subway station serving Shanghai's new Disney resort opened on Tuesday.
The station on line 11 has a floor space of 40,000 square meters, about four to five times the size of an ordinary station. It is so far the only metro station serving the international tourist resort, according to operator Shanghai Shentong Metro Group.
The station is located in the core Disney Resort area, with the north end of the station connected to the park's north entrance.
The station is decorated with a mix of Disney and traditional Chinese elements.
"Two three-meter tall Mickey and Minnie mouse sculptures stand at the center of the station hall. We incorporated elements of traditional Chinese paper cutting into the two sculptures," said interior designer Ma Lingying.
The station also has a mother-and-baby room for breast feeding and changing diapers.