useful numbers
name
number
inquiry
96990
pudong airport
luggage storage
t1:68346324
t2:68340076
lost&found
t1:68346324
t2:68340417
hongqiao airport
luggage storage
t1:22344553
t2:22381085
lost&found
t1:22344553
t2:22381086
AirAsia looking to fly high with China partner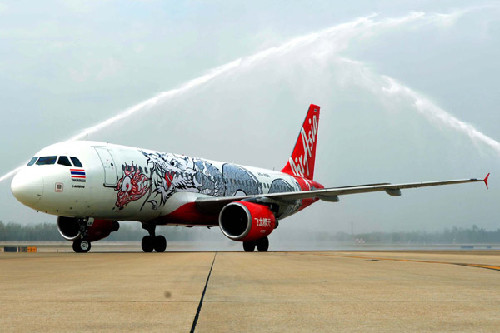 An AirAsia plane landing at the Tianhe International Airport in Wuhan, Hubei province. The carrier will add direct flights between small cities in China and Southeast Asian destinations. [Jin Siliu / For China Daily]
AirAsia Bhd, the Malaysia-based low-cost carrier, is looking for a joint venture partner to tap into growth opportunities in China, a top company official said on Monday.
"It will be great if we can find a suitable joint venture partner," said Tony Fernandes, chief executive and founder of AirAsia, adding that it would be one of the three priorities for the carrier in China in the next three years.
Fernandes said while the low-cost carrier is open to joining hands with those who want to work with it, they must also understand its culture.
As the first budget carrier in Asia, AirAsia with its eight subsidiaries is well-known for its low fares, which could be sometimes 80 percent lower than traditional carriers. The airline also has a convenient network that links it to major tourism destinations in Southeast Asia.
It is also the first foreign low-cost carrier flying to China and operates about 350 flights every week to 17 Chinese destinations on 35 routes.
Low-cost carriers have become a hot topic in the last two years, after Chinese aviation authorities announced policies to support the industry amid promising market prospects.
In the next 10 years, 25 to 30 percent of the routes in China will be taken by low-cost carriers. The low-cost carriers account for just 5 percent of the entire market in China now, said Darren Hulst, marketing director for Northeast Asia of Boeing Commercial Airplanes.
Fernandes is equally optimistic about the China market and said the carrier would continue to explore market opportunities in the country.
"The market in the second- and third-tier cities has the potential to grow, especially in the western part of China," Fernandes said.
AirAsia will add direct flights between the small cities in China and its Southeast Asian destinations including Kuala Lumpur, Bangkok and Bali, Indonesia, he said, and some of these will be totally new routes.
Developing new markets is what AirAsia is good at, Fernandes said, as about half of its current routes in China had no service before it started operations.