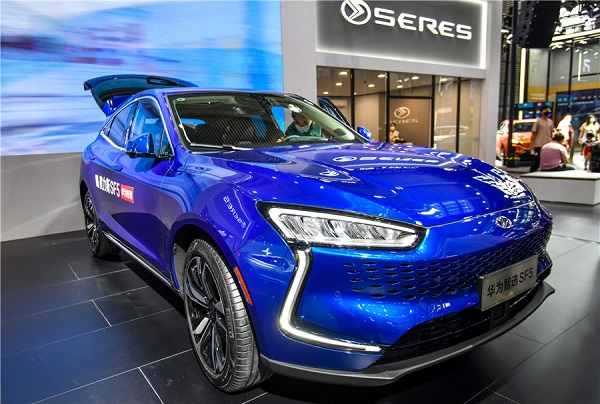 A SERES SF5 is on display at the Guangdong-Hong Kong-Macao Greater Bay Area International Auto Show in Shenzhen, South China's Guangdong province, on July 18, 2021. [Photo/IC]
At the Chengdu Tianfu Software Park, the Chengdu software center of SERES Auto Co based in Chongqing recently hired more than 200 professional technicians in artificial intelligence and big data analysis and processing. In May, SERES witnessed its new energy vehicle (NEV) sales grow by 1,616 percent, and its parent company – Sokon Group Co – has also seen its NEV sales surpass gasoline-fueled automobiles, marking a successful transformation for the company.
"Chengdu performs strongly in electronic information and information technology, while Chongqing has a mature auto-making industry. We hope to make full use of the two regions' advantages and cultivate stronger software research teams," said Zhang Xinghai, founder of Sokon Group Co.
In fact, Chengdu and Chongqing have unveiled their cooperation plan in the NEV area by establishing three corridors – a hydrogen corridor, an electric corridor, and an intelligent driving corridor.
Boasting many whole-car makers, Chongqing has a complete automotive supply system, while Sichuan province performs well in new materials, power cells, electronic information and software, and has an undeniable edge in intelligent connected vehicle testing platforms and information security. The province also enjoys abundant intellectual, scientific and educational resources.
Under the requirements of the dual carbon goals, the NEV must be powered by green electricity generated through energy sources like wind, sunlight, biomass, tides and other renewable resources. This requirement has made Sichuan a more suitable partner for helping Chongqing develop its NEV business. By the end of 2021, the province's hydropower installed capacity accounted for one-fourth of China's total, which is why the nation's NEV cell giants CATL and Svolt have set up battery workshops there.
There is still more collaboration space for the two regions to explore. For example, based on domestic independent technologies and industrial chains, research institutes in Chengdu and Chongqing are in a good position to develop automotive chips.