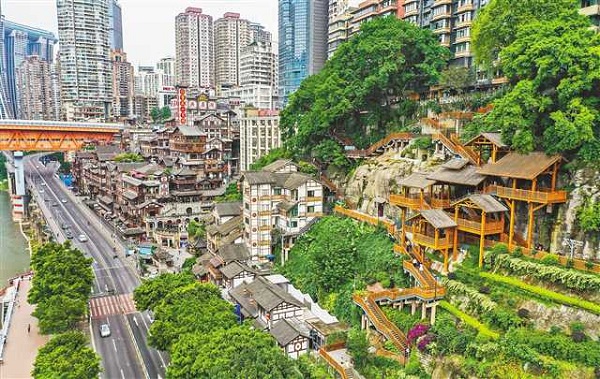 Daijiaxiang Cliff Trail in Southwest China's Chongqing municipality has become a new landmark and a must-see scenic spot for tourists. [Photo/Chongqing Daily]
Dubbed the city of mountains, Chongqing has impressed the world with its many hills, cliffs and valleys. Relying on its unique geography, the city has constructed many trails and city parks to make full use of nature's gift.
Daijiaxiang Cliff Trail, for example, is a trial winding up a steep mountain and consisting of many Z-shaped turns. Although it is only 700 meters long, it is rich in character, enabling passengers to admire the ancient city walls, stilt houses, and the ficus lacor, a large evergreen tree which is the city tree of Chongqing. On one side of the trail are cliffs, while residential areas are located on the other side.
Many such trails in Chongqing are gaining in popularity. "Now I can see flowers year-round, and every time I open the window I can see foliage, which is why I prefer to walk home," said a resident of Beibei district.
Liangjiang New Area has successfully transformed an unused 70-meter-high hill into a mountainous park using stacked stone landscaping and creating a space for family activities, climbing, running, and grass skiing. Last year, the park was selected as the most beautiful mountain park in Chongqing.