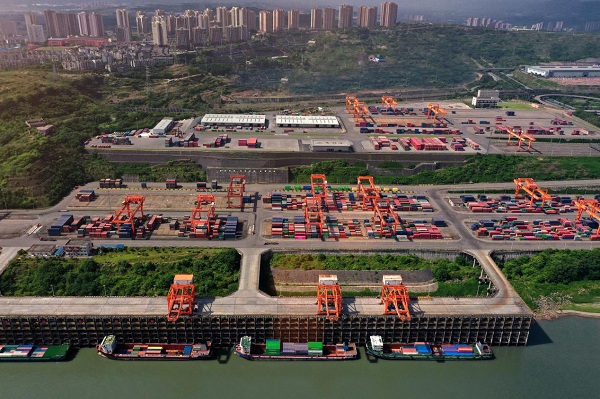 Guoyuan port is an essential connection point for the Yangtze River Economic Belt and the Belt and Road Initiative, and a significant carrier of the China-Singapore(Chongqing) Interconnection Multimodal Transport Demonstration Base. [Photo by Feng Zhiyi/For english.liangjiang.gov.cn]
The Chongqing and Sichuan governments jointly issued a plan to further coordinate and unify logistics network operations, economic development, infrastructure construction and the collaborative environments of the two places' port logistics.
According to the plan, Chongqing and Chengdu will cooperate to develop the New International Land-Sea Trade Corridor by deploying overseas logistic operations systems in Cambodia, Myanmar and Thailand to boost their ability to supply goods to the south.
Chengdu and Chongqing will also cooperate in the China-Europe (Chengdu-Chongqing) Railway Express. The two cities will explore how to build overseas storage areas at significant passes along the China-Europe railway in places like Bremen, Germany, Budapest, Hungary, and Toshkent, Uzbekistan.
Guoyuan port in Chongqing Liangjiang New Area, as the largest inland sea-rail combined port in China, will play a significant role in further opening inland China to the global market.
According to the plan, Guoyuan port will co-build a shipping center in the upper reaches of the Yangtze River along with the dry port of the Chengdu Economic and Technological Development Zone. In the future, Chengdu and Chongqing will also jointly urge higher authorities to conduct a feasibility study on opening a new inland waterway through the Three Gorges.
According to the plan's vision, the Chongqing-Chengdu economic circle expects to transport 460,000 pieces of cargo through the new land-sea corridor, send over 5,000 trains via the China-Europe Railway Express, and achieve over 310 million metric tons of throughput in ports in the Chengdu-Chongqing region.