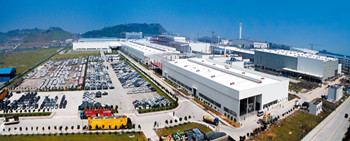 Chongqing Bonded Port Area (CBPA) is a "Gateway" of Chongqing's economic development, and features special Customs supervision as a "water port" and an "airport". Compared with other Customs supervision zones in western China, and it boasts functional and policy advantages, such as:
1. Superior location
CBPA is located in the hinterland of Liangjiang New Area, a new national development area with significant strategic capacity, covering nearly 250 million residents in more than 20 large and medium cities in the surrounding 6 provinces.
2. Full –functioned port
CBPA is the only city in western China that can take seamless connection and "zero-reloading" of various means of transportation, including railways, highways, waterways and airlines, with Cuntan International Container Terminal, Chongqing Jiangbei International Airport, Chongqing-Xinjiang-Europe Railway and other port workplaces.
3. Abundant resources
CBPA has 8.37 square kilometers land resources under special Customs supervision and also about 30 square kilometers for supporting industries, and about 300,000 square meters of bonded warehouses in the airports and the water ports - so as to fully meet the requirements of bonded goods processing, bonded goods logistics and international trade.
4. Area with preferential policies
CBPA is an area for special Customs supervision that embraces the highest level of openness, the most favorable policies and the most complete functions. It has also been conferred an authority of "pilot policy" and serves as a trial version for future free trade zones.
5. All-sided industrial supportive policies
CBPA has formulated supporting policies for industries that satisfy the industry development guidelines. These policies refer to import and export taxes and regulatory policies, entry-exit inspection and quarantine policies, foreign exchange policies, in addition to supporting policies of subsidies for corporate income tax, personal income tax, value-added tax and business tax.
6. Policy-related advantages
The CBPA Administrative Committee has established a "one-stop" service center, enabling the departments responsible for Customs, foreign exchange management, industry and commerce, taxation and public security - as well as other departments - to work together in the bonded port area, and to provide high-quality and efficient services for enterprises.
7. Sophisticated residential conditions
CBPA works with municipal transportation and other authorities to provide supporting service facilities for enterprises, such as public transport, postal services, banks, restaurants, fire fighting and accommodation, and it is thus the area with the most sophisticated supporting facilities among all the special Customs supervision areas in western China and around the whole country.