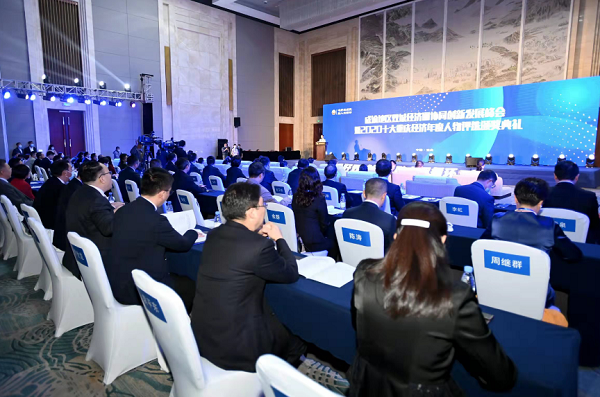 Sichuan and Chongqing have been urged by the central government to focus on coordinated development just before a summit on Oct 22. [Photo/liangjiang.gov.cn]
A summit centered on Chengdu-Chongqing coordinated innovation was held on Oct 22 in response to the Chengdu-Chongqing city economic circle guidelines issued by the Communist Party of China Central Committee and the State Council on Oct 20.
The event was attended by government leaders from Sichuan province and Chongqing municipality, economists, scientists, researchers, and renowned entrepreneurs from the two regions.
Duan Chenggang, secretary of the Chongqing Liangjiang New Area Party Work Committee, said that the summit is focusing on scientific innovation, core technologies, industrial transformation, and the coordinated efforts to be made by Chengdu and Chongqing to promote technology transfers.
Chen Lizhang, director of the administrative committee of the Sichuan Tianfu New Area, participated in the summit and launched a research visit to the Chongqing Digital Economy Exhibition Center, Dadi Enterprise Park, Chongqing Institute of Green and Intelligent Technology of Chinese Academy of Sciences, and other innovation bases and incubators in Liangjiang New Area.
"Liangjiang New Area and Sichuan Tianfu New Area will adhere to integrated development concepts, give full play to industrial clusters, and join efforts to build new mechanisms, platforms and industrial eco-systems," said Li Jie, vice-director of the Chongqing Liangjiang New Area Administrative Committee.
Wu Tao, general manager of the strategic planning department of China Changan Automobile Group, said that their number of suppliers in Sichuan and Chongqing has exceeded 400, and that under the support and guidance of the two governments, Changan Auto will facilitate automobile industrial cluster development in the Sichuan-Chongqing region.
The 2020 Top 10 Economic Personages and the 2020 Top 10 Innovative Personages in Chongqing were also announced at the summit.