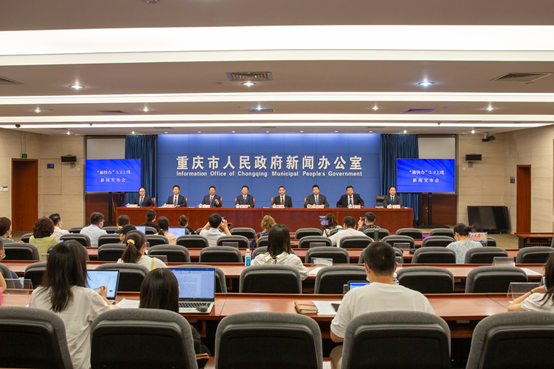 Officials from the Chongqing government hold a news conference to introduce the 3.0 version of the Yukuaiban application on July 28 in Chongqing. [Photo/liangjiang.gov.cn]
"Yukuaiban" is a local application designed to make it easier for Chongqing citizens and entrepreneurs to deal with government affairs online. The 3.0 version of the application was officially announced at a news conference held on July 28 in Southwest China's Chongqing municipality.
Wang Bo, deputy director of the General Office of the Chongqing Municipal People's Government, and Zhang Li, a member of the Chongqing Liangjiang New Area Party Work Committee, attended the conference.
The 3.0 version of the app covers 27 personal affairs and 26 business affairs and has optimized nearly 600 government affairs of most concern to citizens and entrepreneurs o boost user experience, according to Wang.
There are 238 electronic identification photo types collected in the app's photo database. The government service platform of the app also intensifies the use of electronic seals. To date, the platform has gathered more than 5,500 electronic seals from governments at the county and district levels and other relevant units.
The use of electronic signatures is also being explored in Liangjiang New Area, Tongliang district, and the Chongqing Hi-Tech Industrial Development Zone.
The new version of the app has also launched one-stop online payment services that include over 500 items from four payment areas – non-tax payments, living, education, and other payments.
Senior citizens will be more comfortable with the new version, since a special column for elderly people has been created in the app, and now more than 20 government services related to social insurance, medical care, housing funds, household management, and identification services are available in the app.
Employing smart association and correction techniques, the app has upgraded its searching, guiding, and customer services. Business information will be sent to market entities through the app in a targeted way.
Since December 2020, the Yukuaiban app has launched special columns for cross-provincial government affairs. Wang said that now the government is trying to further expand the columns' service scale to Guizhou and Yunnan provinces and Tibet autonomous region.