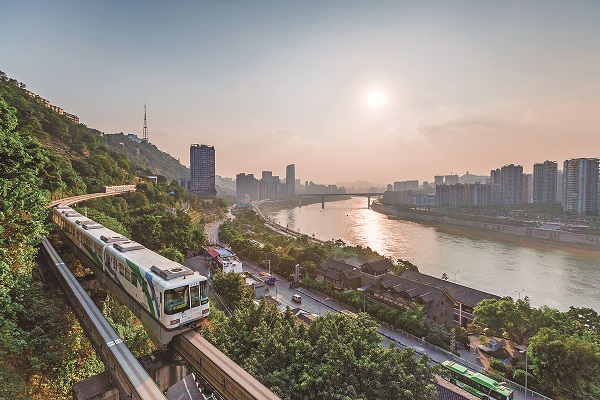 Metro line 2 is one of the most beautiful rail routes in China, running on the mountains and by the Jialing River in Chongqing. [Photo by Peng Yong/China Daily]
Overpass maze
Due to its mountainous landscape, transportation in the city can be challenging and creative.
Many visitors will be amazed by the complexity of the roads and traffic.
Huangjuewan Overpass in the city's Nan'an district has gained widespread attention after photos of the overpass were posted online.
The five-story overpass connects more than 20 ramps and eight different roads, which many call "probably the most complicated overpass" in the world.
Some people even call Chongqing an eight-dimensional city.
This massive project began in 2009 and took nearly eight years to complete.
The city also has the highest overpass in the country, at 72 meters. From windows on the 22nd floor of a nearby building, people can look across at the overpass and see the traffic.
Sitting in a car which is driving on the overpass is like flying in the air.
Chongqing boasts the deepest subway station in China: Hongtudi station on Line 10 has its train platform located at 94.46 meters (or 31 stories) underground. It is one of the deepest in the world.
This is a transit station between Line 6 and Line 10. Ninety-one escalators, considered China's largest escalator network, have been installed to move passengers between lines 6 and 10 and the surface.
Liziba Station on Line 2 of Chongqing Rail Transit became one of the most famous stations in the world after videos of the metro train passing through a 19-story residential building went viral on social media in recent years.
The station and the building were built simultaneously in early 2000 to save space. It uses specialized noise reduction equipment to isolate station noise from the surrounding residences.
Now it is a must-visit for tourists in the city. A viewing platform was specially built near the station for tourists to admire the trains.
Some pose for photos or take creative selfies with their mouths wide open. When a train passes, it looks like it is going through their mouths.
With two rivers winding around the city and after building more than 4,500 bridges in recent years, Chongqing is also referred to as the "city of bridges".
Back in the 1980s, the people of Chongqing designed a cable car in the air to get across the Yangtze and the Jialing rivers as a means of public transportation.
The Yangtze River Cableway stretches 1,166 meters with a one-way trip taking five to six minutes. It is now a tourist destination as more bridges are built on the river.
The iconic cable car has also appeared in many Chinese movies.