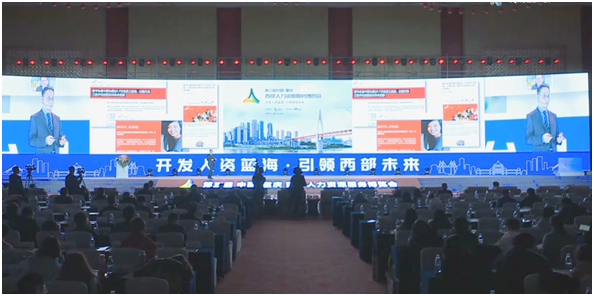 Experts and elites share opinions on human resources development at the 2019 Western Human Resources Service Expo in Chongqing's Liangjiang New Area. [Photo/liangjiang.gov.cn]
The 2019 Western Human Resources Service Expo was held in Liangjiang New Area, in Southwest China's Chongqing municipality, from Nov 26 to 27, attracting human resources service organizations and companies from western provinces and other countries.
The expo set one main venue, seven parallel sessions and 33 topic sharing meetings that gathered human resources experts and elites to discuss the future development of human resources services in west China.
About 100 human resources service organizations from west China attended the trade fair during the expo, 15 of which released new products in recruitment, background surveys, talent evaluation and salary management.
Compared with previous years, 2019 expo set up a human resources management capability competition, with over 12,000 people signing up for the competition, 60 percent of whom are company employees.
By the end of 2018, Chongqing has 1,680 human resources service organizations with gross revenue of 30.7 billion yuan ($4.37 billion), ranking first in West China.