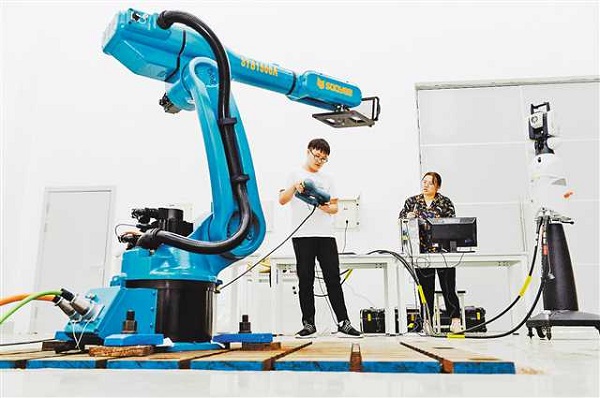 An engineer applies the laser tracker to test the properties of the industrial robot at NRTE in Liangjiang New Area, Chongqing. [Photo/liangjiang.gov.cn]
Chongqing's National Robot Testing and Evaluation Center (NRTE) in Liangjiang New Area, the first of its kind in Central and West China, receives industrial robots from all over China for testing every day.
It tests whether industrial robots can move accurately to the position of their programming. Every movement of the robots is tracked by laser, which measures its accuracy by micrometers and milliseconds.
Wang Maolin, a robot test engineer, said it is important for industrial robots to accurately move to the set positions, as they are widely used for material handling, welding, and coating.
To date, Chongqing is the fourth city home to NRTE, following Shanghai, Guangzhou, and Shenyang.
The center in Chongqing has established an R&D center and laboratories of noise, vibration and harshness test as well as electromagnetic compatibility test for industrial and service robots, with a total investment of 300 million yuan ($42.59 million).
The center is able to carry out tests for various robots and related components, covering more than 100 standards and over 300 test items. The test reports are acknowledged by over 70 countries and areas, as well as 100 institutions across the world.