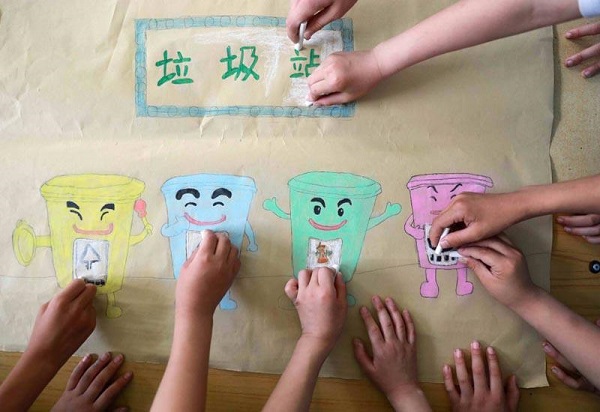 Chongqing aims to establish its garbage sorting system by 2022. [Photo/liangjiang.gov.cn]
To improve its garbage sorting system, Southwest China's Chongqing municipality will carry out a series of enforcement actions, aiming to establish its sorting system for urban household garbage by 2022. Instances of not sorting trash properly will be involved in the social credit system.
By 2020, Chongqing will conduct the demonstration of household garbage sorting in 50 percent of townships in urban areas and 30 percent of administrative villages. About 10 demonstration districts and counties, as well as 2,500 demonstration villages will be built.
The recovery and utilization rate of household garbage in major urban areas will reach 35 percent by 2020, compared with 28 percent in this year.
Residents are required to separate dry and wet garbage, discard hazardous waste at the particular collection points, as well as sell or deliver recyclable garbage separately. Wet garbage should be put into special containers to reduce the usage of plastic bags.
Specialized companies should enhance the sorting and collecting ability. The distributions of collection points will be improved, and related information will be publicized.
The transportation route and schedule will be set properly for garbage collection, and garbage trucks will be marked with standardized logos.
In addition, Chongqing will strive to realize full coverage of household garbage incineration in major urban areas by 2020.