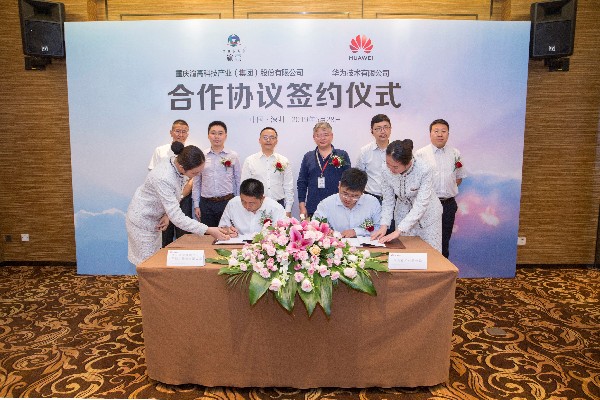 Yugao and Huawei sign an agreement to cooperate on Chongqing's smart city construction and big data development. [Photo/liangjiang.gov.cn]
Chongqing Yugao Tech Industry Co recently signed an agreement with China tech giant Huawei in Shenzhen, Guangdong province to cooperate on smart city construction and big data development in Chongqing.
With Yugao's experience and resources in engineering construction, as well as Huawei's R&D and technological capabilities, both sides will focus on the research of making livelihood services, as well as making construction, campus management, and industrial park management smart.
As one of Huawei's representative projects in smart engineering, the smart industrial park project can provide the general services of management, security, and transportation with big data, Internet of Things, and AI technologies.
It can also be customized according to different needs of governments, schools, factories, and real estate, which has been realized in Xi'an, Tianjin, Sanya, Linyi, and Lanzhou.
According to the agreement, Yugao and Huawei will cooperate on the informatization of engineering construction management, the smartization of engineering construction progress and results, the cultivation of a bank of professional talents, and the research of engineering big data.
Chongqing's Liangjiang New Area will start with smart manufacturing, digital economy, scientific and technological innovation, as well as smart city projects to promote the construction of a smart Liangjiang.
By 2020, Liangjiang will invest 10 billion yuan ($1.45 billion) to establish a domestic leading smart industrial system, form a fist class smart industrial cluster, and become a leader in smart manufacturing in China.