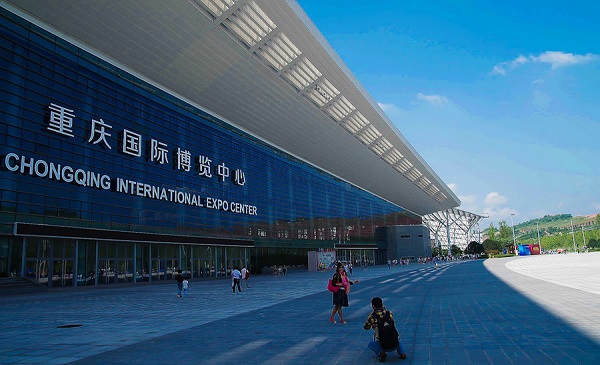 The second WCIFIT is going to be held in Chongqing International Expo Center, Liangjiang New Area. [Photo/liangjiang.gov.cn]
The second Western China International Fair for Investment and Trade (WCIFIT) is set to kick off in Liangjiang New Area, Chongqing from May 16 to 19.
The fair will cover an exhibition area of 110,000 square meters with the attendance of 280 Fortune Global 500 companies, 1,900 transnational corporations, as well as 22,000 guests from 57 countries and regions.
The fair will have eight thematic exhibition areas to showcase western China cooperation, international cooperation, the New International Land-Sea Trade Corridor, free trade zones, regional cooperation, transnational corporations, State-owned companies, and famous private-owned companies.
During the fair, 49 investment and cultural exchange activities will be held, including 10 thematic activities, eight Belt and Road activities, 11 guest of honor activities, and 20 special activities.
The WCIFIT will invite Sichuan, Guizhou, and Shaanxi as guests of honors for the first time to bring promotions concerning the investment environment and high-quality projects in western China.
The fair aims to enhance the cooperation and opening up efforts of the 12 provinces and regions in western China. It will also highlight the development strategy, industrial development, and attractive investment opportunities in these areas.
As a pioneer in promoting development in Chongqing, Liangjiang New Area has capabilities in constructing major projects, attracting social capital, optimizing resources, and playing a key role in regional function development.
By holding the WCIFIT, Liangjiang will support Chongqing in leading the construction of the Belt and Road Initiative and the Yangtze River Economic Zone.