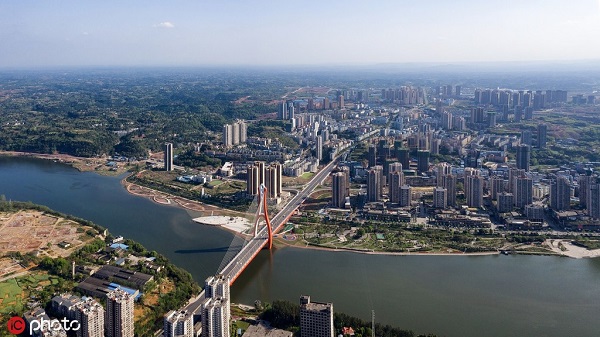 A bridge rolls across the river in an aerial view of Tongnan District in Chongqing, April 9, 2019. [Photo/IC]
China's Southwest municipality Chongqing has signed an agreement with the Hungarian Ministry of Innovation and Technology to further cooperation in the making of auto parts and electronics.
Both sides will build a factory in the Tongnan District of Chongqing, the Chongqing Science and Technology Bureau said.
The factory, with an investment of 50 million yuan ($7 million), will be used to design, develop and produce smart products such as auto parts, smartphones and touch keyboards.
It is designed to have an annual output of 1.5 billion yuan upon completion, the bureau said.
Chongqing has carried out scientific cooperation with Hungary in recent years. A technological transfer center between China and Hungary was set up in Chongqing in 2016. The center has helped nurture 43 projects.
Palkovics Laszlo, Hungarian minister of innovation and technology, said Hungary has over 700 auto and parts makers, producing about 28.7 percent of the country's industrial value.
Hungary is also the first EU member to join the Belt and Road Initiative. It has great potential to cooperate with Chongqing in the auto industry, he said.