Chongqing, a dynamic metropolis in China's southwest, saw booming trade through railway with European cities, according to its government work report on Sunday.
China-Europe freight trains to and from Chongqing surged over 50 percent to over 1,000 trips in 2018, Chongqing mayor Tang Liangzhi said in the report.
Chongqing, which started rail cargo service to Duisburg, Germany in 2011, has rail cargo services to more than 30 European countries including Germany, the Netherlands, Belgium and Italy, Tang said.
Chongqing will continue to invest in infrastructure and service in logistics this year, he said.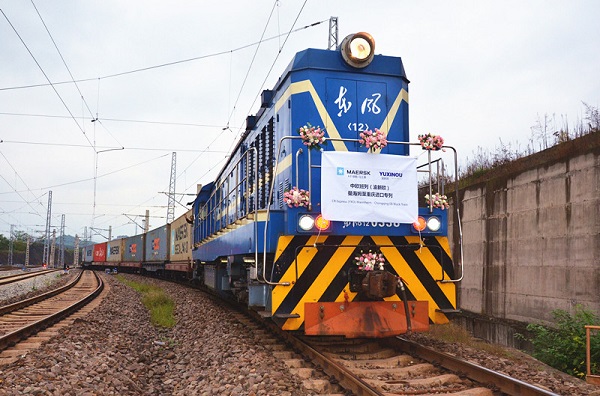 A China-Europe freight train arrives in Chongqing from Mannheim. [Photo/liangjiang.gov.cn]
With surging cargo volume, Chongqing is planning storage and distribution facilities in Russia, Poland and Vietnam to meet demands, said Qi Dan, general manager of the Yuxinou (Chongqing) Logistics Co., Ltd.
The company will also consolidate its services in cross-border e-commerce, international mails and cold-chain transportation, Qi said.
The China-Europe rail freight service, a crucial part of the Belt and Road Initiative, connects 59 Chinese cities with 49 cities in 15 European countries. In 2018, the trains made a total number of 6,363 trips.
Trains head to Europe laden with garments, auto parts, chemicals and other Chinese good, and bring back European food, machinery, equipment and timber.