Construction on China's first 5G self-driving vehicle testing platform started in Liangjiang New Area, Chongqing on Jan 16. The project will be finished within one year and will be used for testing self-driving vehicles in areas covered by a 5G signal.
The platform will be co-constructed by China Automotive Engineering Research Institute Co (CAERI), China Telecom Chongqing branch and Datang Mobile. It will provide vehicle testing services for all companies.
In addition to applying 5G technology to self-driving, the platform will also serve as a research and development center to support the construction of an intelligent traffic application system and set national standards for automatic driving.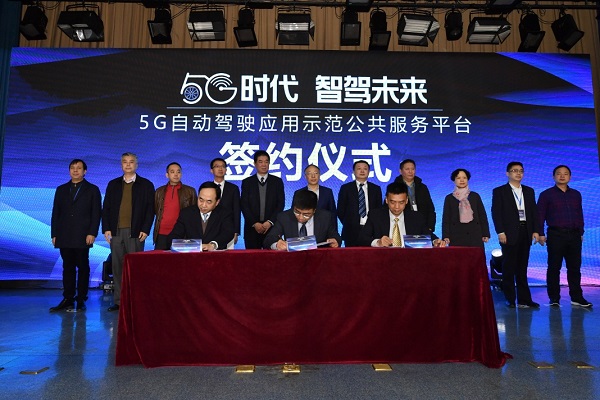 China's first 5G self-driving vehicle testing platform is launched in Liangjiang New Area. [Photo/liangjiang.gov.cn]
Lijia Ring Road in Liangjiang, one of the testing areas, is the longest testing road in Chongqing. The 33.2-kilometer road is equipped with over 30 5G base stations and 12 more are planned. This will meet the requirements for automatic driving for commercial purposes in a public area.
According to the latest data, the intelligent industry in Chongqing made 464 billion yuan ($69 billion) in revenue last year, while its output of intelligent vehicles and robots increased by over 50 percent.
A unique landscape and climate make Chongqing an attractive place to test self-driving vehicles. With the emerging intelligent vehicle industry in Liangjiang, Chongqing now has a solid foundation for building a national 5G intelligent vehicle system.