Chongqing Haifu Technology Co, an advanced medical device manufacturer in Liangjiang New Area, Chongqing, was recently approved by the China Scholarship Council as a social practice and cultural experience center for international students in China.
The China Scholarship Council selects qualified institutions to become education centers for international students in China. The centers organize visits, lectures, academic exchanges, cultural exhibitions, social practices and other activities to teach international students about China.
As one such center, Haifu will present the latest technological research and development, equipment manufacturing and clinical application achievements of high-intensity focused ultrasound therapy to international students.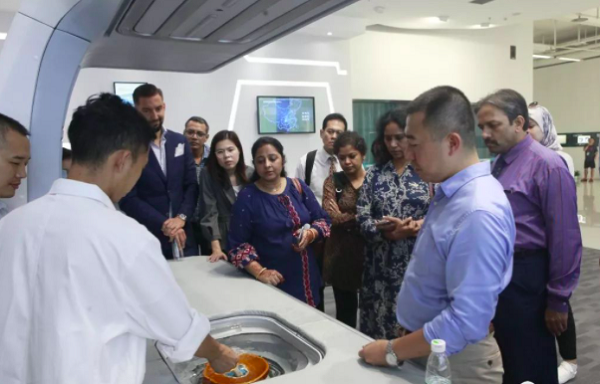 International students visit Chongqing Haifu Technology Co. [Photo/liangjiang.gov.cn]
The equipment developed by Haifu for high-intensity focused ultrasound surgery is the best in the world and has been exported to over 20 countries including Britain, Italy, Spain, Russia, Saudi Arabia, Germany, Cuba, South Africa and Argentina.
Haifu has established over 50 international focused ultrasound surgical treatment centers and began long term cooperation on academic and clinical treatments with top international medical institutions such as Churchill Hospital of Oxford University.
Throughout the past 10 years, training classes organized by Haifu have provided basic theoretical knowledge of high-intensity focused ultrasound therapy and its clinical applications to thousands of clinicians and international students from all over the world.
The healthcare industry in Liangjiang has developed into a large industry cluster covering an area of 200 hectares with over 80 projects related to high-end chemicals, biomedicine, modern Chinese medicine, medical devices and healthcare services.