CloudWalk Technology has created a new record for voice recognition precision, beating many renowned enterprises and institutes, including Microsoft, IBM, Alibaba, Baidu and Johns Hopkins University.
The record was broken in the Digital Economy Industrial Park of Liangjiang New Area, Southwest China's Chongqing municipality, local media reported on Oct 29.
The Pyramidal-FSMN model came from CloudWalk's latest breakthroughs in image reading and voice recognition, beating the previous record by miles.
More precise than human stenographers
When tested on LibriSpeech ASR, the world's biggest open source corpus for voice recognition, Pyramidal-FSMN raised the record for precision to 97.03 percent and lowered the WER (word error rate) to 2.97 percent. In these ways, the new model is more efficient than professional stenographers.
"Our model will bring current voice recognition technology to a new level," said a project manager from CloudWalk.
It's CloudWalk's latest milestone after breaking three world records concerning cross-border person re-identification (ReID) earlier this April.
It is also a key move for the company in building its virtuous circle of core technologies, including facial recognition, intelligent perception and smart analysis.
Zhou Xi, founder of CloudWalk, believes the development of AI contains five stages: academic research, experimental verification, market acceptance, industry platform promotion and creating an intelligent ecosystem. A closed circle of core AI technologies will be the key to opening the door of each stage.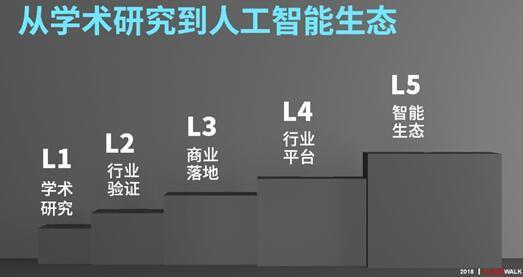 The five stages of AI development starting from academic research. [Photo/liangjiang.gov.cn]
Liangjiang an incubator for high-tech startups
As a national pilot zone for opening-up and development, Liangjiang New Area has built the largest digital economy park, with a large number of promising startups, such as CloudWalk Technology.
"Whether its is in office space, supportive policies or talent training, Liangjiang New Area is offering us plenty of help," said Zhou Xi, founder of CloudWalk Technology.
To return the favor, CloudWalk will cooperate with China Unicom and Inspur Group, both of whom have headquarters in Liangjiang, to develop new big data and cloud computing solutions, which will add new dynamism to the area's smart city development.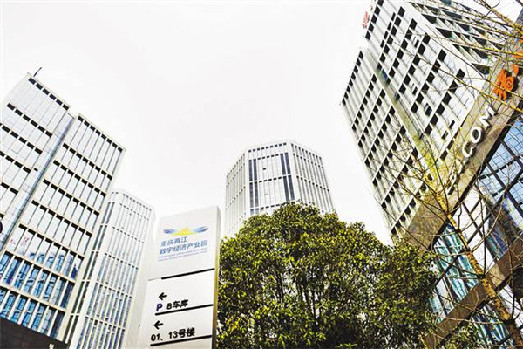 Liangjiang New Area Digital Economy Industrial Park. [Photo/people.com]